Fresh Gulf seafood is one of the trademarks of New Orleans' world-famous cuisine, and while we can't deny our love for flash-fried oysters, shrimp po-boys, or crawfish etouffee, sometimes the best way to enjoy the bounty of shellfish we can access to in NOLA is by removing the whole aspect of cooking it to begin with. And even if fully raw bivalves aren't your cup of tea, there's something to be said for the simplicity of marinated, chilled fish and shellfish, especially when it's paired with a good cocktail or crisp glass of wine.
So where to go when the craving for marinated crab claws, shrimp cocktail, or even nigiri hits? See below for our top picks for everything from dive-y oyster bars to French bistros with towering fruit de mer platters.  
Traditional Raw and Chilled Seafood in New Orleans
One of my very favorite meals when I'm feeling decadent is a seafood tower split between a friend or two and an ice-cold martini to wash it all down. Both Lüke and King Brasserie are especially known for their top-notch selection of raw towers, with Lüke's menu featuring a smaller seafood plateau with a dozen oysters, six boiled shrimp, tuna tartare, and smoked trout dip in addition to their larger grand tower, which adds Maine lobster, more oysters and shrimp, and clams to the lineup. King Brasserie's Royal Seafood Tower on the other hand includes oysters, yellowfin tuna tartare, gulf shrimp, and blue crab claws. Miss River in the Four Seasons New Orleans and Pêche are two other top contenders for robust seafood platters.
The recently opened Uptown bistro Pigeon & Whale also has a solid selection of raw or chilled shellfish and crudo to be enjoyed alongside their impressive cocktail menu. And Fives Bar in the heart of the French Quarter along Jackson Square has the added benefit of some of the best people-watching you can do while throwing back oysters served with marinated crab claws inside of a space that feels equal parts Parisian and New Orleans. Bonus points for their inclusion of the Columns Martini on their drink list–a vodka and gin martini that comes on a golden tray with a sidecar of pickled veggies, olives, and a lemon twist to dress it up to your heart's content.
Caviar Service in New Orleans
Also in the realm of decadence, caviar service has popped up on more and more menus across the city, and is the ultimate in treating yourself when dining out. The Ace Hotel's Seaworthy offers several different caviars (in addition to their own selection of raw oysters from all coasts and other raw/chilled delicacies). Jewel of the South is another must-try for caviar and cocktail aficionados–they even offer a caviar happy hour on Wednesdays for when you want to ball out on a budget.  
Dive-y but Delightful Oyster Bars
Raw oysters might be a luxury, but the glory of New Orleans is that you can get equally amazing oyster selections whether you go to a fancy white-tablecloth joint or a darkened dive bar where you can grab an ice-cold beer and make small talk with an oyster shucker while sports flicker on big screen TVs in the background. Both Acme and Felix's are two of the city's most famous oyster bars, and what they lack in glamor, they make up for in charm and an only-in-New Orleans vibe. Cooter Browns, located way Uptown along the St. Charles Avenue streetcar line in the Riverbend, is known for their mighty beer selection, bustling oyster bar, and laid-back atmosphere. Here, you can doctor up your own cocktail sauce just to your liking and no one will judge how many handfuls of saltines you reach for. Frankie and Johnny's, Casamento's, and Sidecar are also great options for oysters (although to varying degrees of divey-ness). See even more of our favorite places for oysters here.
Sushi in New Orleans
New Orleans has also had somewhat of a sushi renaissance in recent years. Whether it's the omakase at Yo Nashi, the inventive rolls at sleek sushi bars like Tsunami or Bisutoro, or the simple, straightforward menu of handrolls and Japanese bar snacks at Oak Street's Sukeban, the world is your literal oyster when it comes to finding high-quality sushi in the city. You can find even more of our top picks for sushi here.  

Best Places for Raw and Chilled Seafood in NOLA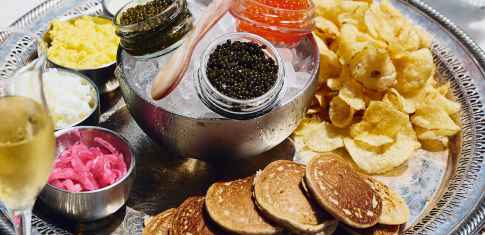 Best Places for Raw and Chilled Seafood in NOLA