When craving sushi in New Orleans, there's no shortage of options. We've got everything from high-end, splurge-worthy restaurants to hole-in-the-wall, budget-friendly spots. Find traditional Japanese dining in every neighborhood in New Orleans and satisfy those cravings with a trip to one of the restaurants below.
Omakase in New Orleans
While New Orleans is known for its incredibly fresh seafood, high-end, omakase-style dining experiences are fairly new to the New Orleans culinary scene. If you're looking for a truly exceptional, elevated dining experience, Yo Nashi is an excellent choice. The tasting menu starts at $89 (excluding drink pairings), with special add-ons such as Wagyu typically available for an additional charge. Although not in New Orleans proper, Yakuza House is considered to be some of the best sushi in the metro area, with both half and full omakase options available on top of a more standard a la carte menu. And Luvi, a local's favorite for Japanese and Chinese fusion dishes, serves a mini-omakase of three courses called the "Feed Me" for $50 (with an additional $22 charge for sake or wine pairings).
Traditional Sushi and Handrolls in New Orleans
If you're interested in a bit more control over your menu, but still want top-quality nigiri and sashimi alongside creative rolls and composed dishes, try Bisutoro in the Lower Garden District. Fans of traditional handrolls will love Sukeban on Oak Street, which features a paired back menu of exceptionally high-quality fish in an intimate setting.
Sake Café (Garden District), Tsunami (Central Business District), and Rock'n'Sake (Warehouse District) all feature inventive menus in sleek settings and are all great options for everything from date nights to celebratory group dinners. Poseidon, which features private karaoke rooms, also makes for an excellent group outing and is conveniently located along St. Charles Avenue in the Garden District.
Casual Sushi Restaurants in New Orleans
If you're looking for more casual neighborhood sushi spots with fun rolls, high-quality fish, and a more laid-back atmosphere, there are quite a few local gems to choose from. One of our favorites happens to be Origami, which is situated Uptown along bustling Freret Street. Asuka on Washington Avenue also has a whole host of innovative and delicious rolls and is available for takeout and delivery in addition to dine-in. Finally, Wasabi and Royal Sushi & Bar are both excellent choices in the Marigny neighborhood.

Best Places to Get Sushi in New Orleans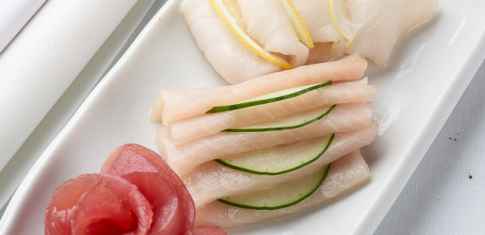 Best Places to Get Sushi in New Orleans