Chargrilled on the half shell, deep-fried and piled high on a po-boy, or even raw - there are plenty of ways to enjoy oysters in New Orleans. Available year-round (but best enjoyed between the months of September and April), oysters are a must on any seafood lover's list of what to eat when visiting New Orleans. And what better way to do so than to share a few of our favorite oyster spots and happy hours? 
Check out our guide to New Orleans' Best Oysters below for a shucking delicious meal! 
Drago's Original Charbroiled Oysters have been described as "the single best bite of food in town." The secret is in the sauce! It's so decadent and flavorful that it can be purchased in local groceries stores around New Orleans. Grab a dozen to eat while in town and make sure to bring the secret sauce back home with you! 

Acme is no stranger to NOLA when it comes to serving oysters Cajun-Creole style. From raw to chargrilled, or just shooters, Acme has the options! You can even try their oyster soup if you're trying to keep it light. 
Seafood is the name of the game at Bourbon House, and oysters are the star of the show. They've got oysters on the half shell and charbroiled oysters with Bordelaise Sauce, plus a raw oyster bar to satisfy your cravings. Grab a bourbon milk punch while you're there. 
They might be named for their crabs, but their oysters are a strong second! The Blue Crab is a great go-to for seafood delicacies like boiled crawfish, BBQ shrimp, crab claws, and of course, oysters on the half-shell. You can enjoy them by the whole or half dozen, raw or chargrilled. 
They even have oyster shooters available for folks that just want a taste! The best time to go? Swing by for happy hour Tuesday - Thursday from 4-6:30 p.m., and take advantage of 75-cent raw oysters and chargrilled 'sters for just $1.10 each. Grab a seat at one of their two outdoor patios and soak up the sun and sounds of live music. 
Felix's prides itself on putting oyster bars on the map in New Orleans. And with a menu as robust and oyster-focused as theirs, we can't deny it. Raw oysters on the half shell, chargrilled oysters, buffalo oysters, Oysters Rockefeller, oysters du jour, oyster pasta, platters, salads, and more. If you don't walk in an oyster fanatic, you'll have no choice but to leave as one!
 
At this stunning addition to the Four Seasons Hotel, the oysters are just as good as the view. This Donald Link restaurant features specialty steaks, local and French-inspired cuisine, and, of course, a picturesque oyster bar with a panoramic view of the Mississippi River. Enjoy a classic serving of a half-dozen oysters or try a bit of everything with the Seafood Tower, which includes crab claws, steamed shrimp, and ceviche along with the half-dozen oysters. Be sure to stop by for their Oyster Hour, which takes place Monday through Friday from 3-5 p.m. and features a rotating selection of oysters for $1/each, plus $10 glasses of select wine.
A Magazine Street must for dining and drinks, oysters come raw or chargrilled by the dozen. Or you can opt for a lighter approach with an oyster Caesar salad. It's the perfect midday meal to tackle an afternoon full of boutique hopping along Magazine. 
Home of the Bow-Wow and some of the best oysters in New Orleans! Neyow's has a tremendous menu that features a number of local classics such as red beans, po-boys, gumbo, BBQ shrimp, and their famous chargrilled oysters. This neighborhood eatery is a must-visit. 
An iconic seafood eatery nestled along St. Charles Avenue, Superior is best known as the home of the Frozen French 75, but their oysters have an identity of their own. You can have them raw, chargrilled, or choose from Bienville or Rockefeller style. No matter what you opt for, they're delicious. 
This cozy oyster bar is a Bayou Road favorite. Enjoy drinks and oysters in an intimate outdoor setting. Pro-tip: Swing by once the weather cools down in the fall and have your oysters next to their open fire pits. Relaxing and delicious!
Some of the best happy hour oyster deals can be found at Sidecar NOLA. This tucked-away treat can be found in New Orleans' Warehouse District. Get a taste of a little bit of everything from the Gulf Coast to the West Coast. Feeling fancy? Opt for their oysters and champagne. Feeling frugal? Head over for their Wednesday half-price happy hour. Options are endless! 
A hotspot oyster bar in the heart of downtown New Orleans. Their oysters are responsibly sourced and hail from the Gulf, and both the east and west coasts. In addition to freshly shucked oysters, Seaworthy also offers a selection of chilled and cured tuna, shrimp, and cobia. Craft cocktails complement the menu for a full-on experience. 
Mr. Ed's is a familiar oyster bar and seafood house with locations across New Orleans. From Mid-City to the French Quarter, they feature oyster specialties from Southwest to spicy - Mr. Ed's is all about options. 
Located in the Riverbend section of Uptown on Oak Street, Seafood Sally's is a neighborhood seafood restaurant focused on Gulf seafood and bold flavors. They feature a selection of Louisiana oysters, as well as picks from the larger Gulf Coast region. They run a number of oyster happy hours, so be sure to check out their social for up-to-date information.  
Chef Melissa Martin's restaurant is an ode to Louisiana's coastal fishing communities and sustainable consumption. The main restaurant is largely a communal take on dining, with a pre-fixe menu and family-style service, but smaller, private tables are also available. The menu rotates due to seasonality, but you can expect regional specialties like stuffed crabs, seafood gumbo, and­–of course–Louisiana oysters. While the main dining experience requires reservations, those looking for a quicker bite can stop into their bar (no reservation needed), where you'll find cocktails, a thoughtful wine list, and raw oysters served on the half shell.

Best Oysters in New Orleans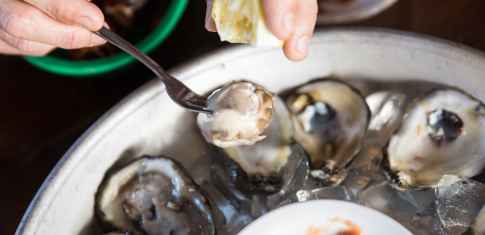 Best Oysters in New Orleans