August in New Orleans means one thing and one thing only–COOLinary. Well, that's not exactly true. August also means Museum Month, Satchmo SummerFest, White Linen Night, and Red Dress Run… but for those of us with food constantly on the brain, COOLinary is a little bit like our Christmas morning (but make it a month).
For the uninitiated, COOLinary is that special time of year when some of the city's top restaurants offer their very best multi-course menus at set prices from $25 or less for lunch and $50 or less for dinner and brunch. It's an excellent excuse to try a ton of different restaurants at a much more approachable price point. But with 106 restaurants (and counting), it can be a little intimidating to figure out where to start. As always, we've got your back. We've narrowed things down into categories like top splurge-worthy spots doing COOLinary, best family-friendly picks, and best COOLinary restaurants for classic New Orleans cuisine. You can browse the full list of participating restaurants (including menus) here.
As far as my picks, I personally love the idea of Costera's family-style approach to COOLinary, with a four-person menu that includes some of my favorite of their dishes, like Red Snapper Crudo, Charred Romaine, Gulf Fish a la Plancha, and a 24oz Boneless Ribeye, plus more. Their sister restaurant, Osteria Lupo, has taken a similar approach for COOLinary, featuring a family-style menu of their rustic Italian cuisine including dishes like Burrata con Panna with pistachio pesto, Black Truffle Arancini, Radiatori with blue crab and basil, Spicy Rigatoni alla Vodka, Grilled Rack of Lamb, a Saffron Pavlova, and more.
Couvant's dinner menu also looks delicious – my picks would be the Blue Crab Gnocchi, the Mushroom Tagliatelle with spicy 'nudja, and Profiteroles to cap it off. GW Fins is another excellent COOLinary pick. They're known for their extremely fresh seafood and seasonality, so the exact menu fluctuates a bit depending on what's available, but a few sample dishes that grabbed my attention are the Firecracker Tuna Tacos, Spearfished Cobia, and their Cornmeal Blondie.
The addition of brunch to the COOLinary lineup a few years ago was a welcome one–after all, if you're anything like me, simply picking one brunch item and calling it a morning is nearly impossible. Maybe that's why I'm gravitating towards Commander's, where each course comes with *options*. Like, many options (between five and eight choices per course). If Commander's has been on your bucket list for a while, it's an opportune time to take advantage of the pricing. Or you could check out Toups Meatery, where their COOLinary brunch menu features dishes like Crawfish Remoulade over Fried Green Tomatoes, Smoked Salmon Benny with Cajun Caviar, and a S'mores Brownie.  
While it may seem like there's no possible way that there could be any room left in a reasonable person's stomach after all this COOLinary talk, there are a few other notable newbies to the New Orleans restaurant scene that I've tried and loved recently. First up, you've got Fives Bar along Jackson Square. While technically more of a cocktail bar, they've got a great raw menu, so it's an excellent place to post up and watch the world go by with a dozen oysters, some marinated crab claws, and my very favorite martini in town. Speaking of raw seafood, Pigeon & Whale is a newcomer to the Freret Street corridor and offers a number of raw or chilled seafood dishes in addition to shareable small plates (the octopus was delicious), and larger entrees (I loved the scallops). Their cocktail menu includes an entire section devoted to negronis, and their dessert menu is top-notch, with a playful take on lemon cheesecake that's made to look like actual lemons or their chocolate mousse with hazelnut ganache, served inside of a miniature bathtub with a layer of cream "bubbles." And lastly, again on the theme of raw seafood, the brand-new King Brasserie in the Kimpton Hotel Fontenot is on my list to try–especially when I caught a glimpse of their shellfish tower. Pair that with a gorgeous interior and a menu with dishes like roasted oysters with ramp butter, King Carbonara with sea urchin, bottarga, and black truffle, and Wild Boar Provençale.
Finally, lovers of Jersey-style Italian subs will be pleased to know that the long-awaited Francolini's has opened their brick-and-mortar on Tchoupitoulas. Whether you go hot (like The Travis with crumbled Italian sausage, garlicky broccoli rabe, red pepper flakes, and melted provolone) or cold (like The Gandolfini with soppressata, fresh mozzarella, spicy olive salad, arugula, and Calabrian chili vinaigrette), you're in for a real treat. They also pack well, so grab one and take it on a picnic. You won't be sad.

Where to Eat in New Orleans in August 2022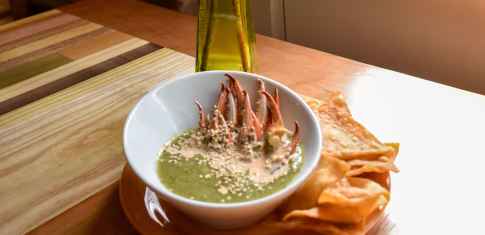 Where to Eat in New Orleans in August 2022