New Orleans Named the 2nd Most Welcoming City in the World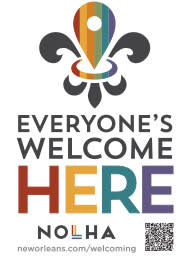 In 2017 and 2018, GayCities readers gave New Orleans the distinction of being named the second most welcoming city in the world. Why? Our locals. They are not only culture bearers, but also advocates for acceptance. In addition, New Orleans has a rich LGBT history complete with gay Mardi Gras krewes, too. It's these things and a myriad of other reasons why people from all over the world flock here. And, because of our inclusion initiatives, which have helped us win this accolade, more and more people are discovering New Orleans.
How New Orleans is Focusing on Inclusion?
Mayor Latoya Cantrell started an LGBT task force to help improve the lives of queer people in the city 
New Orleans Tourism Marketing Corporation along with New Orleans and Company created NOLHA  (New Orleans LGBT Hospitality Alliance)
Launched a welcoming sticker program to show visitors inclusive businesses
Plan Your Next Trip
You'll find helpful resources for planning your visit to New Orleans at NewOrleans.com/LGBT.
Sticker Program
As a way to show LGBT and allied visitors just how welcoming we really are, our local community and hospitality leaders, created a sticker program for businesses to display loud and proud.
Any business can display the sticker, by taking a pledge to being an inclusive and welcoming member of our city. These stickers will show our visitors safe spaces and businesses that are dedicated to supporting an inclusive environment.
For more information or to receive a free sticker packet, click here.