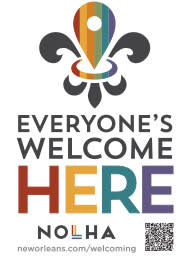 As a way to show LGBT and allied visitors just how welcoming we really are, our local community and hospitality leaders, a group called NOLHA, created a sticker program for businesses to display loud and proud.
Any business can display the sticker, by taking a pledge to being an inclusive and welcoming member of our city. These stickers will show our visitors safe spaces and businesses that are dedicated to supporting an inclusive environment.
For more information or to receive a sticker packet, please email nolha@notmc.com.