Pere Antoine's Alley (Jackson Square) – Pere Antoine was a beloved priest who worked tirelessly for the poor. Visitors to the alley that runs alongside St. Louis Cathedral say you can see Pere Antoine's ghost in the early morning hours, clad in Capuchin black and sandals. He's also been seen inside the Cathedral.
Le Petite Theatre du Vieux Carré – Here you might bump into an actress from the 1930s named Caroline who accidentally tumbled over the railing to her death in the courtyard below, dressed in a white wedding gown for the play that night. You might also run into the captain who watches plays from his balcony seat, hoping for a glimpse of an actress he was sweet on.
Walking Down Bourbon Street from Jackson Square
Lafitte Guest House – A mirror outside Room 21 at the Lafitte Guest House is haunted by 5-year-old Marie, one of thousands of children from New Orleans who died during the yellow fever epidemic of 1853. Too upset to leave her baby, the ghost of her mother resides here as well.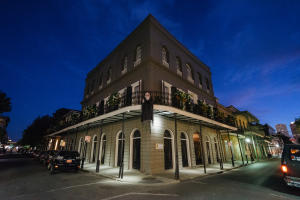 Jean Lafitte's Blacksmith Shop – The privateer Jean Lafitte himself is said to keep an eye on the fireplace in his former Blacksmith Shop where it's believed he hid his booty.
Café Lafitte in Exile – Café Lafitte in Exile is said to be haunted by playwright Tennessee Williams who can be seen in his usual seat at the far end of the bar. Author Truman Capote's spirit also seeks conversation in the bar's stairwell.
Site of Old French Opera House – This site is said to be haunted by Marguerite, the ghost of an aging Storyville madam. Spurned by her young lover, she committed suicide more than 100 years ago after leaving a note that read, "I will return, and kill those that have hurt me!"
Old Absinthe House – This 200-year-old bar is haunted by famous customers who used to party there. You might pull up a stool next to General Andrew Jackson, voodoo queen Marie Laveau or the pirate Jean Lafitte. Doors open and close on their own while bottles, glasses, and chairs have been seen moving around the bar.
11 More Spots to Catch a Ghost
Antoine's Restaurant – It's said that Antoine Alciator, the founder of this famous family-owned restaurant, returns to check up on his ancestors. Other spirits in 19th century clothing peer from mirrors in the washrooms.
LaLaurie Mansion – In 1834, when a fire broke out in LaLaurie Mansion, firemen discovered dozens of slaves caged and chained to the wall in a secret attic where monstrous experiments were carried out by Madame LaLaurie. It's whispered that her ghost and the spirits of a few unlucky servants still reside here.
Napoleon House  – The second floor of this building was an infirmary during the Civil War. As night approaches, a soldier in gray can be seen on the balcony.