The History of Cajun Food in New Orleans (and how it's different from Creole)
Contrary to popular belief, Cajun food is not native to New Orleans. It's often confused with Creole fare, and while the two Louisiana cuisines share a common ancestor, they have distinct differences.
Cajun food, culture, and the people who make it trace their ancestry back to L'Acadie, an early French settlement in present-day Canada. They were forcibly expelled by the British in the mid-1700s and migrated south in what is known as Le Grand Derangement (or the Great Upheaval). Some of them went to Louisiana west of New Orleans, where they became known as the Cajuns—and the area they settled, Acadiana. Their cuisine evolved as a direct result of the natural environment and resources at hand. Without refrigeration, Cajuns had to learn to utilize the whole animal (sausage is a specialty), and one-pot meals were the norm.
Lagniappe: Henry Wadsworth Longfellow's epic poem "Evangeline: A Tale of Acadie" describes 'Le Grand Derangement' through the eyes of starcrossed lovers Gabriel and Evangeline. It was made into a film of the same name in 1929 starring legendary Mexican actress Dolores del Rio.
Creole food also emerged from French culinary practices; however, it developed along a parallel but distinct path. Creole cuisine is generally associated with New Orleans where—much like the city itself—its French base was seasoned by Spanish, Italian, Native American, West African, and Caribbean influences. Many "old school" New Orleans restaurants like Antoine's, Galatoire's, and Arnaud's serve traditional Creole cuisine. 
While there is some crossover with dishes in both traditions (for example, there are both Cajun and Creole types of gumbo), some say a rule to distinguish the two is that, traditionally, Creole cuisine uses tomatoes while Cajun cuisine typically does not. Today, the line separating Cajun and Creole cuisine has begun to blur as many chefs born and raised in Acadiana with Cajun food in their blood have brought their cuisine to New Orleans.
Food lies at the heart of life across Louisiana. So whatever the occasion (or non-occasion), celebrate it with a taste of Cajun country at one of these restaurants.
Where to Eat Cajun Food in New Orleans
901 Louisiana Ave.
Known as an establishment that embraces New Orleans culinary traditions while pushing boundaries. With live music, innovative food, and a smart cocktail menu, it continues to find its stride in New Orleans' rich culinary landscape.
930 Tchoupitoulas St.
At Cochon and its younger, more casual sibling, Cochon Butcher, Chef Donald Link has reconnected with his culinary roots serving the traditional Cajun Southern dishes he grew up with. Chef Link and chef/co-owner Stephen Stryjewski use fresh, locally-sourced ingredients and focus on traditional methods to create the authentic flavors of Cajun Country.
777 Bienville St.
Led by the world-renowned chef John Folse, a native of Acadiana, and Executive Chef Rick Tramonto, Restaurant R'evolution offers both classic Louisiana dishes and new creations that use local ingredients like alligator, crawfish, sassafras, and persimmons. Death by Gumbo, Restaurant R'evolution's most popular dish, is a full gumbo served with a whole, semi-boneless quail stuffed with oysters, andouille sausage, and filé rice.
200 Julia St.
Find food from land and sea at this spot near the Convention Center. The "Cajun Rice Arancini" appetizer features fried seafood-and-andouille-sausage rice balls, and the crispy duck confit is served with candied yam spaetzle. For mains, try the Pork Chop LaPlace (stuffed with Andouille) or the seafood platter with crab-stuffed Gulf fish, fried Louisiana oysters, and New Orleans-style barbecue shrimp.
201 Julia St.
What makes a meal at Mulate's one of the most authentic Cajun restaurants in New Orleans aside from its menu is live music and dancing—a true slice of the close-knit, vibrant culture of Acadiana.
8324 Oak St.
Five-star food in a real New Orleans atmosphere. This funky spot located on Oak Street in the Riverbend-Carrollton area has become a favorite for locals and tourists alike. Special creations include dishes like their "not famous" shrimp and alligator sausage cheesecake.
1532 St. Charles Ave.
Expertly crafted food, spirits, and cocktails come together in a unique privately-owned micro-distillery and restaurant. Lula is the first of its kind in New Orleans and the Southeast US.
845 N. Carrollton Ave.
At this contemporary Cajun restaurant located near City Park, Chef Isaac Toups presents fine food and wine, specialty cocktails and charcuterie inspired by deep-rooted Louisiana family traditions. 
444 St. Charles Ave.
Led by Lafayette native Chef Jim Richard, Trenasse highlights Gulf Coast (specifically Louisiana) cuisine—including gumbo, boudin balls, and alligator tamales. Located within the InterContinental, Trenasse offers a rustic yet chic vibe.
2441 Orleans Ave.
Since 1992, Chef Greg Sonnier, 2004 James Beard finalist, and his wife Chef Mary have served Louisiana Cajun- and Creole-inspired cuisine at this fine dining neighborhood restaurant.  Their slow-roasted duck is famous with good reason, and paired with a Peppermint Patti for dessert, it's clear to see why Gabrielle is a long-time local favorite.
827 Toulouse St.
Named after Chef Jarred Zeringue's hometown, Vacherie's menu features authentic Cajun (and Creole) food. For a shareable appetizer, try the Cajun sausage platter with house-made pickles. The restaurant, located in the French Quarter also offers a courtyard dining option.
Top Picks for Cajun Food in New Orleans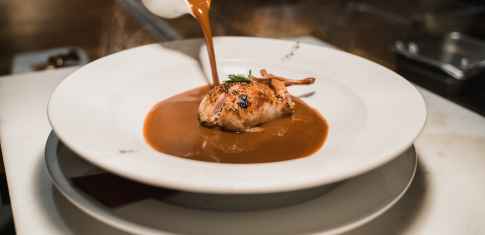 Top Picks for Cajun Food in New Orleans