Cajun food is robust, rustic food, found along the bayous of Louisiana, a combination of French and Southern cuisines. It was brought to Louisiana from the French who migrated to the state from Nova Scotia 250 years ago and used foods, right from the land. Think of meals with lots of smoked meats as well as meat-heavy, one-pot dishes like jambalaya or the rice-filled, spicy pork sausage known as boudin. Though delicious Cajun food can certainly be found in New Orleans, the true heart of Cajun country lies northwest of the city in areas like Breaux Bridge and Lafayette.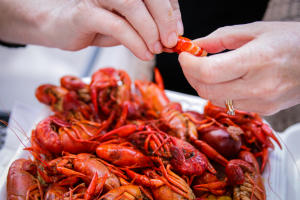 Creole food is cosmopolitan food, created in New Orleans with European, African and Native American roots. The French influence is strongest, but vestiges of Italian, Spanish, German, and even Caribbean can be found in some dishes. The essence of Creole is found in rich sauces, local herbs, red ripe tomatoes, and the prominent use of seafood, caught in local waters. It is associated with the old-line kitchens of New Orleans, where generations of traditions are carried on today. Think of rich, roux-based gumbo, shrimp creole, grits and grillades, redfish courtbouillon and more. 
Both cuisines make liberal use of what New Orleanians call the "holy trinity" of cooking: chopped green peppers, onions and celery. The most common misconception is that both foods are spicy, fiery hot. Both Creole and Cajun cuisines have a depth of flavor, borne of a loving blend of local herbs and (quite often) roux and may or may not be spicy. 
In New Orleans, Creole and Cajun dishes can be found at many of our 1,400 restaurants any time.