The Arts/Warehouse District – Full Day Itinerary
There is a plethora of museums in this part of city including two that focus on war.
Breakfast – Have breakfast at Two Chicks Café before going off to battle.
Gallier Hall (Old City Hall) – Because of its strategic location (the gateway to the Mississippi River) New Orleans became an early Union target. In April 1862, after days of heavy bombardment, New Orleans officials surrendered the city at Gallier Hall. Confederate President Jefferson Davis and New Orleans own General Pierre Trudeau Beauregard both lay in state here.
Lunch –  You can't do better than Cochon on the corner of Tchoupitoulas and Andrew Higgins. With James Beard Award-winner Donald Link at the helm, you won't be disappointed.
National World War II Museum – Named the  No. 2 in the World by TripAdvisor Travelers' Choice Awards (2017), the National World War II museum is a must-see for all patriots. Come discover the courage and sacrifice of the men and women who changed the world.
The Victory Solomon Theater Pavilion is home to the Solomon Victory Theater, featuring the 4D, multi-sensory exclusive cinematic experience Beyond All Boundaries from producer Tom Hanks.
Dinner and a Show – Stay at the museum tonight and dine at The American Sector Restaurant + Bar, serving a Victory Garden-to-Table menu. Then swing and sway back to VJ Day with a show at BB's Stage Door Canteen.
Treme – Half-Day Itinerary
The oldest African-American neighborhood in the United States is an amazing place to learn about slavery and the role it played in the Civil War.
Lunch – If you were the leader of the free world, where would you eat in New Orleans? Presidents Obama and George W. Bush chose Dooky Chase, home of the "Queen of Creole Cuisine." 2016 James Beard Lifetime Achievement Award Winner Leah Chase is the chef.
African-American History Museum – Located on the site of a former plantation, this museum includes items such as receipts for the purchase of slaves and chains used on slave ships.
Tomb of the Unknown Slave – Located in a garden plot alongside St. Augustine Catholic Church, this shrine serves to commemorate the memory of "the nameless, faceless, turfless Africans who met an untimely death in Faubourg Treme."
Garden District/Uptown – Half Day Itinerary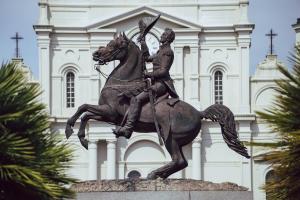 Enjoy the amazing antebellum homes throughout these neighborhoods. Take a guided tour or get a map and explore on your own. There are two buildings of interest to war buffs.
John Bell Hood Home – the French Second Empire style house at 1331 Camp street was lived in by Confederate General John Hood, his wife Anne and their 11 children. In the summer 1879, yellow fever struck the city and Hood, his wife, and their daughter Lydia died from yellow fever. The Hood's surviving children were adopted by several families.
Christ Church Cathedral – Final resting place of Civil War Confederate Lieutenant General Leonidas Polk, second cousin of President James K. Polk. General Polk also served as bishop of and was known as Sewanee's Fighting Bishop. His grave can be found in the front floor sanctuary of the church to the right of the pulpit. Fort Polk is named in after him.
Foot of Canal Street – Half Day Itinerary
If you get a chance, take the Canal Streetcar over to Metairie Cemetery. Here's an afternoon itinerary to try out.
Lunch – Love Asian fusion? Head to Café Minh. Can't get enough traditional Italian-Creole cuisine? Mandina's Restaurant is terrific. The turtle soup is wonderful and so is everything else. Both are on the streetcar line.
Metairie Cemetery – One of New Orleans' most famous Cities of the Dead holds the remains of Confederate Generals Richard Taylor, P.G.T. Beauregard and John Bell Hood. Here you'll find breathtaking monuments dedicated to Louisiana soldiers who served in the Army of Tennessee and the Army of Northern Virginia, as well as a separate monument to the famed Washington Artillery.
Afternoon Snack – Get off the streetcar at N. Carrollton Avenue and walk a few feet to Angelo Brocoto's. There you'll find fabulous gelato, cannolis, spumoni and more.