The James Beard Awards are a coveted culinary title that many compete for, but only a handful are awarded each year. From restaurateurs to regional chefs, rising stars, and outstanding wines, James Beard recognizes and honors some of the best in the industry. This year, 12 New Orleans-based chefs (or duos) and restaurants were named semifinalists of the renowned award, and three were named finalists. The winners will be announced and celebrated during the awards ceremony in Chicago on June 5.
James Beard Award Finalists
EMERGING CHEF
Drawing from his Senegalese roots, Chef Serigne Mbaye gives the flavors of home to guests of Dakar. 
OUTSTANDING BAKERY
Brocato's has served the New Orleans community everything from gelato to cannolis since 1905.
Best Chef: South (AL, AR, FL, LA, MS, PR)
Chef Ana Castro blends modern Mexican cuisine with elements of her family's past and utilizes locally sourced ingredients to tell a story through the menu at Lengua Madre. Stop in for the tasting menu–a five-course meal built for the senses.
James Beard Award Semifinalists
OUTSTANDING RESTAURANT
A New Orleans classic, Brennan's has been a pillar of the restaurant scene since 1946. Stop into the iconic pink French Quarter building for tableside Bananas Foster, daily champagne sabering in the courtyard, or the live turtles that inhabit the fountain pool. 
OUTSTANDING CHEF
Caribbean meets Creole cuisine at this Warehouse District restaurant. Chef Nina Compton has previously been awarded the prestigious James Beard Foundation Award for "Best Chef: South."
Outstanding Wine and Other Beverages Program
Commander's has been a New Orleans landmark since 1893 and is known for their outstanding wine program.
Best Chef: South (AL, AR, FL, LA, MS, PR)
Blake Aguillard and Trey Smith
Chefs Blake Aguillard and Trey Smith have cooked all over the world, but they've created magic at Saint-Germain. The menu for the dining room is a five-course tasting experience, with a vegetarian menu the third week of every month. Known for their wine, stop into the garden patio or bar reservation-free.
Amarys and Jordan Herndon
This vibrant French Quarter restaurant is known for their decadent plates of quail, duck, and wagyu steaks. 
An elevated take on Louisiana cooking, Mosquito Supper Club came from the mind of Chef Melissa K. Martin a few years ago and has only evolved since. Taste the bayou and hear tales of the past while enjoying a communal, sustainable-focused meal. Martin's debut cookbook, Mosquito Supper Club: Recipes from a Disappearing Bayou,  won a James Beard Award in 2022 for Best Book in the U.S. Foodways category. You can even sample a recipe from her cookbook here.
Charly Pierre
New Orleans has seen an influx of Caribbean restaurants in the past few years, but Fritai stands out above the rest, serving upscale Haitian cuisine.
Colleen Quarls and Liz Hollinger
With menu items like Grand Slam McMuffin, Molly's Rise and Shine takes a refreshingly modern twist on classic breakfast fare.
Michael Stoltzfus
This Lower Garden District restaurant serves classic New Orleans cuisine with a focus on local ingredients.

New Orleans 2023 James Beard Semifinalists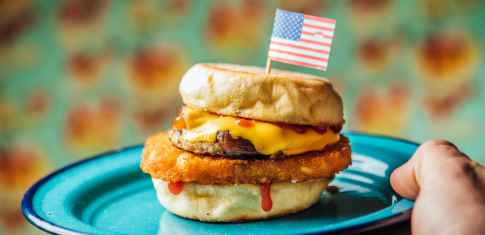 New Orleans 2023 James Beard Semifinalists