Mardi Gras Indian Tribes
There are roughly three dozen tribes in the city with names like the Golden Eagles, the Flaming Arrows, the Yellow Pocahontas, and the Bayou Renegades.  With a formal hierarchy of chiefs, spy boys, flag boys, big chiefs, wild men and more, the Indians grace the streets of New Orleans' neighborhoods on Mardi Gras Day in friendly competition over which chief is the "prettiest." With boastful singing and threatening dances and gestures, the tribes go out seeking other tribes to "battle."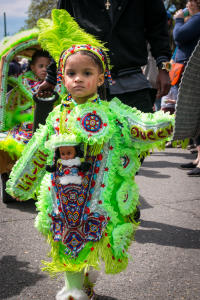 Mardi Gras Indian Music
Call-and-response chanting with tambourines and other handheld percussion plays a central role in the Mardi Gras Indian spectacle. Tribes like the Wild Magnolias and the Wild Tchoupitoulas have released critically acclaimed recordings and sometimes perform professionally with full bands.
Mardi Gras Indian music has also permeated into New Orleans funk, soul, R&B and bounce. The famous New Orleans tune "Iko Iko" with the lyrics, "My flag boy and your flag boy, sitting by the fire," is rooted in Mardi Gras Indian tradition as is the New Orleans' standard "Hey Pocky Way."
Where to Spy Mardi Gras Indians
Good places to catch tribe gatherings include the banks of the Bayou St. John at Orleans Avenue, Taylor Park Uptown, the corner of Washington Avenue and LaSalle Street, the intersection of Orleans and North Claiborne avenues, near Armstrong Park, and at Hunter's Field at the corner of North Claiborne and St. Bernard avenues. They also make appearances in historic Tremé at the Backstreet Cultural Museum, where history and costumes are on display year round.