Often referred to as the most European city in the U.S., it's no surprise that New Orleans has its share of French restaurants bistros, cafes, patisseries, and everything in between. From croissants and crème brûlée to escargots and steak au poivre, you can satisfy both your sweet tooth and your hungry belly in NOLA. 
French Bakeries in New Orleans
There are no shortage of incredible French and French-inspired bakeries across New Orleans. For those looking for traditional laminate pasties (think, perfectly buttery, flaky croissants and kouign aman), head to local favorites like Levee Baking Co. in the Irish Channel, Croissant D'Or in the French Quarter, or Celtica French Bakery in Lakeview. For more modern and fanciful takes, Sucre offers glitter-dusted confections like macarons and mille fueuille. 
Traditional French Restaurants in New Orleans
When it comes to traditional French dining in New Orleans, you can find classics such as moules frites, niçoise salad, and cassoulet in bistros that feel right out of Paris. Crepe Nanou is a solid choice Uptown, as is the (cash only) Ciro's Cote Sud. Or head to Esplanade Avenue for dinner in the dreamy indoor/outdoor oasis at Café Degas. These spots are perfect for romantic nights out.
 
Modern French Restaurants in New Orleans
Of course, it comes as no surprise that like the city itself, many restaurants take French cuisine and then put their own, very New Orleans twist to it. Whether it's the flashy and fun atmosphere at Justine, the elevated Southern brasserie vibe at Couvant, or the fusion of rustic French with Japanese influence in the immensely charming setting at N7, these spots are the perfect destination for everything from celebratory dinners to catching up with close friends.
See below for more of our top picks for French dining in New Orleans.
 

Top French Restaurants in New Orleans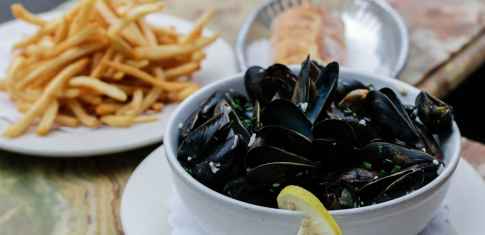 Top French Restaurants in New Orleans