From deep dish to paper thin, a slice of pizza isn't hard to find in New Orleans. We've got triple cheese, vegan, the works, and even seafood pizzas. Throw in some wings and a salad, and it's a perfect meal. You don't have to travel to New York, Chicago, or Detroit for your favorite pie—check out the restaurants below serving them up NOLA style.
New York-Style Pizza (and Pizza by the Slice)
Monumental pies, thin crust, and availability by the slice… just because it's New Orleans and not New York doesn't mean you can't find excellent NYC-style slices here. Pizza Delicious is the original Brooklyn-inspired pizza shop in NOLA. What started as a secret window selling pies back in the early 2010s is now a full-fledged restaurant, complete with seasonal pasta dishes and excellent wine pairings. NOLA Pizza Co. in NOLA Brewing is another standout favorite, and pairs very well with the beers brewed on-site. They also have excellent white and square options. 
Wood-Fired and Neapolitan-Style Pizza
Smaller in size and cooked in wood-burning ovens, spots like Pizza Domenica, Ancora, and Sofia are known for their traditional offerings (think Margherita, pepperoni, and diavola), as well as their more creative toppings. Restaurants like Margot's offer pies with shaved brussels sprouts, ricotta cream, and lemon zest (as well as an excellent cocktail list with an entire section devoted to Negronis), or you can opt for lamb merguez sausage or farm egg with smoked bacon and braised collard greens at Paladar 511.  
Classic Pizza
Pepperoni, supreme, and yes–even Hawaiian, when you're craving classic, hand-tossed pizza, there are several standout spots throughout New Orleans. We're particularly fond of Theo's Neighborhood Pizza, Mid-City Pizza, and Reginelli's. All three are smaller, local chains with reliably delicious pies in multiple locations throughout the city. In the mood for deep dish? Midway on Freret is the go-to spot in the city for Chicago-style pizza.
See even more of our favorite spots below, or browse all pizza restaurants here.

Best Places to Get Pizza in New Orleans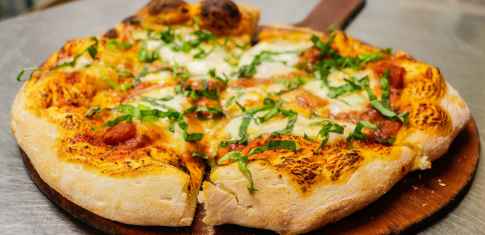 Best Places to Get Pizza in New Orleans