Outdoor, or al fresco, dining isn't hard to find in New Orleans. There are courtyards, patios, and gardens that offer a picturesque dining experience, but restaurants with balcony seating give you a meal with a view. From the French Quarter to hidden neighborhood spots, check out the best spots for balcony dining below.
French Quarter Restaurants with Balconies
The historic French Quarter has an abundance of options for balcony dining. Muriel's Jackson Square overlooks the heart of the French Quarter, great for people watching or taking in the sights. Nearby, Tableau also has views of the French Quarter on their romantic balcony. Catch sweeping views of the Mississippi River from Chemin à la Mer, located on the fifth floor of Four Seasons Hotel New Orleans. Other balcony dining options in the Quarter include Mambo's and Curio.
Other Restaurants with Balcony Seating in New Orleans
They are plenty of balcony dining spots outside the French Quarter as well. Take a trip Uptown, to the Central Business District, or to the Lakefront for great views and even greater food. People-watch from a busy stretch of Magazine Street at Gris-Gris or Boil Seafood House, or see gorgeous sunsets at the Lakefront via the Blue Crab. The options for balcony dining in New Orleans are endless.

Restaurants with Balcony Seating in New Orleans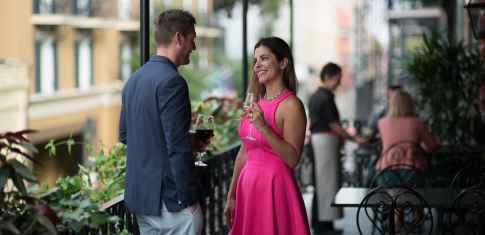 Restaurants with Balcony Seating in New Orleans