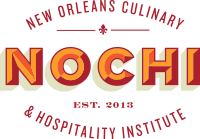 New Orleans, LA – On Tuesday, January 16, 2018, New Orleans Culinary & Hospitality Institute (NOCHI) – a $32 million non-profit culinary school set to open in 2019 – hosted an official groundbreaking event attended by nearly 200 members of the restaurant and hospitality industries, elected officials and community supporters.
The morning began at Greater New Orleans Foundation (GNOF) where Louisiana Governor John Bel Edwards, New Orleans Mayor Mitch Landrieu and NOCHI Partners – Melvin J. Rodrigue of Ernest N. Morial New Orleans Exhibition Hall Authority and Tulane University's President Michael Fitts – each shared their excitement about the project during the remarks portion of the event. NOCHI co-founders Ti Adelaide Martin, Dickie Brennan, and George Brower also delivered on the vision and mission of the school.
Remarks concluded with a cocktail demonstration by a group dressed like the "shaker boys" employed by Henry Ramos back in the late 1800's to prepare his namesake cocktail now known as the Ramos Gin Fizz. Carol Markowitz, Executive Director for NOCHI, then led guests behind the "shaker boys" to the official "groundbreaking" ceremony next door at NOCHI, where oversized spoons were used to commemorate the special moment.
Beyond the above, notable guests in attendance included culinary matriarch Ella Brennan; Sazerac owner Bill Goldring, Chefs Frank Brightsen, Justin Devillier, Tory McPhail, and Michael Gulotta; Saints owner Gayle Benson; NOTMC President Mark Romig; Stan Harris of the Louisiana Restaurant Association, businessman/philanthropist Frank Stewart; State Representative Helena Moreno; and many others.
Link to images: NOCHI Groundbreaking Images​
About New Orleans Culinary & Hospitality Institute
Co-founded in 2013, New Orleans Culinary & Hospitality Institute (NOCHI) is a private, non-profit culinary school dedicated to advancing opportunities through career training and education, ideas through research and scholarship, and enrichment through engaging enthusiast programs.  NOCHI is licensed by the State of Louisiana's Board of Regents to offer post-secondary certificate programs and is scheduled to open in New Orleans' Central Business District in early 2019.  For further information, please visit http://www.nochi.org/ 
###
Media Contact:
Lauren Busch/Anabel Mendez
Brustman Carrino Public Relations
nola@brustmancarrinopr.com
(305) 573-0658