Month long celebration to include MusiCon, a new music industry conference
to be held in New Orleans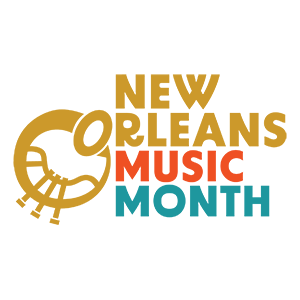 New Orleans, LA – April 27, 2023 – In partnership with local organizations, music festivals and business leaders, New Orleans & Company is announcing the first-ever monthlong celebration of music, culture and technology, New Orleans Music Month, slated for this October. In addition to supporting the music scene year-round, New Orleans & Company is expanding its commitments to the community's music industry growth introducing a new music industry conference, NOLA MusiCon, October 24-27, 2023.
"Every day of the year, we instinctively know that music underlies our entire cultural landscape in deep and meaningful ways," said Walt Leger III President and CEO of New Orleans & Company. "In designating October formally as 'Music Month', New Orleans & Company, along with many other organizations and long-standing music events, is dedicating resources to market our live music scene and the industry that surrounds it with a focused conference to compliment the many music-centric events that are ongoing during that same month."
NOLA MusicCon will include informative panels and inspirational interviews featuring music industry professionals and thought leaders, interactive hands-on demonstrations from cutting edge brands, one-on-one mentor sessions, live performances from emerging and established local talent, and unparalleled networking. The goal of the conference is two-fold: to inform/educate artists and others in the music business, as well as highlight New Orleans as a viable place for the industry.
Prior to joining New Orleans & Company, Leger served as a state representative and Speaker Pro Temp, where he was the legislative champion for bills designed to support growth in the music industry. Working with the Recording Academy, Leger passed significant legislation that gives the economic development community real tools to attract and support music companies.
Also part of New Orleans Music Month, and returning for its third year, will be the annual celebration of music venues, NOLAxNOLA, kicking off  Music Month with two weeks of music shows and special programming from September 28-October 8, 2023. Other marquee events include the Crescent City Blues & BBQ Festival (October 13-15) and NOLA Funk Fest (October 20-22), which includes the official public announcement of The Louisiana Music & Heritage Experience, a new 120,000 square feet museum set to be built near the New Orleans Ernest N. Morial Convention Center.
New Orleans continues to be the birthplace of amazing musicians, as evidenced by the multiple GRAMMY nominations, and wins each year. Reid Wick, Recording Academy's New Orleans-based Membership & Industry Relations representative and an organizer of NOLA MusiCon, has helped garner support for the local music industry.
"Louisiana has the strongest suite of incentives for music industry growth in the country," Wick said. "From recording, touring, and jobs growth via payroll tax incentives, the New Orleans music industry deserves recognition and a seat at the table similar to other industry sectors across the region."
After the passage of the Quality Music Company payroll tax incentive in 2017, music community leaders and Greater New Orleans, Inc. came together to establish the New Orleans Music Economy (NOME) initiative. Josh Fleig, Vice-President of Business Development, Greater New Orleans, Inc., oversees the New Orleans Music Economy (NOME) initiative.
"New Orleans has always enjoyed a robust live music scene with a vibrant festival and club scene but hadn't really focused on other income streams derived from music creation and music business," said Fleig.
NOME commissioned a year-long study by Sound Diplomacy, which resulted in a 30-pronged plan to grow the New Orleans music industry. The plan calls for development of a major marketing campaign, music industry hub (Tremé Center) and business development outreach efforts (Music Fête), support of a significant music conference and industry incubator, facilitating networking (Re-Mixer), mentorship and financial assistance opportunities.
New Orleans Music Month is another way to promote and support the New Orleans music industry to both visitors and locals. For information about events, festivals, and conferences during New Orleans Music Month, visit NewOrleans.com/MusicMonth.
###
About New Orleans & Company 
New Orleans & Company is the tourism and hospitality industry's official destination sales, marketing and trade organization, responsible for driving over $10 billion of diverse annual business to the regional cultural economy. We attract leisure and cultural travel, business meetings, conventions, weddings, festivals, sporting and special events to New Orleans in a highly competitive global environment. Founded in 1960, New Orleans & Company is committed to celebrating the richness of our culture while creating jobs, building careers, and enhancing the quality of life for every New Orleanian. For more information, visit neworleans.com or follow us on Twitter, Facebook and Instagram @VisitNewOrleans.