Any business, by taking a pledge to being an inclusive and welcoming member of our city, can display the sticker. These stickers will show our visitors safe spaces and businesses that are dedicated to supporting an inclusive environment. To see all businesses currently enrolled, click here.
What are the requirements for displaying a sticker?
The only requirement for displaying a welcoming sticker is taking a pledge that your business is inclusive and welcoming of all people. Here is that pledge: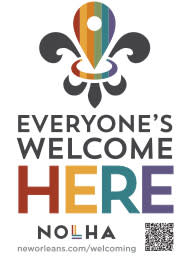 Our LGBT-friendly business is committed to promoting an economically vibrant Greater New Orleans area, and we believe that we must have workplaces that are diverse and welcoming for all, including, but not limited to, lesbian, gay, bisexual, and transgender people.
We believe that our business is enhanced by LGBT people; by placing the welcoming sticker decal in our business window or adding it to our website, our business will work to create a "safe space" for our LGBT employees and patrons. By hanging this sticker, my business is committed to fostering the aforementioned safe space.
Is there a cost involved?
No. There are absolutely no costs involved in joining the program.
What happens next?
If you decide that a sticker is right for you business, please fill out the form by clicking the red button at the top of this page. After your form is filled out, a sticker will be mailed to you with a packet containing the sticker and more information on making your business an inclusive space.
If you are looking to get even more involved with NOLHA. Please email us at the address below.
For more information please email nolhagroup@gmail.com.