Summer in New Orleans is underway, and there's plenty on our agenda as far as where we're eating this month. First off, we're branching into some new neighborhood gems, including pizza, a whole slew of negronis, and natural wine from Margot's, feasts of dumplings and dim sum at the new Uptown location of Wishing Town Bakery, and impressive steak dinners at the recently reimagined and expanded Piece of Meat in Mid-City. 
June is also Caribbean Heritage Month, and as the northern most city of the Caribbean, New Orleans has some stellar offerings when it comes to Caribbean dining. You can find Haitian street food at Fritai (including the whole fish, which we included as one of our top picks for 22 Dishes to Try in 2022), or authentic Jamaican at 14 Parishes (they've got two locations – one on Oak Street and on in Pythian Market). Or try out Queen Trini Lisa's Trinbagonian comfort food, like her famous doubles box (curried chickpeas with flatbread and chutney) or her coco bread fish sandwich.  
And finally, the week of June 20-26 marks Restaurant Week New Orleans. Expect curated multi-course menus at some of the city's best dining destinations. We're particularly excited to see menus from The Chloe (where the meal begins with beef tartare and ends with a seasonal sno-ball), The Bower (options include scallop crudo, mussels with andouille and shrimp, and peach handpies), and fresh catches of the day at GW Fins. Another surprise we can't wait to check out – Brigtsen's is doing a fully vegetarian menu. To see all participating restaurants and explore menus, click here.  

Where to Eat in New Orleans in June 2022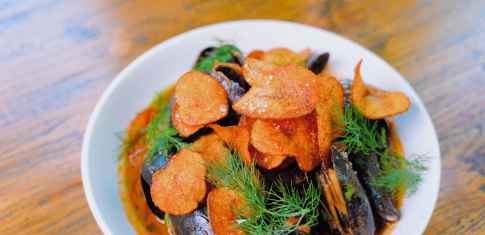 Where to Eat in New Orleans in June 2022