Summer in New Orleans is underway, and there's plenty on our agenda as far as where we're eating this month.
First off, June is Caribbean Heritage Month, and as the northernmost city of the Caribbean, New Orleans has some stellar offerings when it comes to Caribbean dining. You can find Haitian street food at Fritai on Oak Street  Or try out Queen Trini Lisa's Trinbagonian comfort food, like her famous doubles box (curried chickpeas with flatbread and chutney) or her coco bread fish sandwich. Boswell's is another stellar Caribbean pick, and there's even more reason to try them out in June, as they're participating in this year's Restaurant Week, offering a menu with options such as jerk chicken eggrolls, coconut steamed snapper filet, and rum cake.
This brings us to even more Restaurant Week. For the week of June 19-25, you can expect curated multi-course menus at some of the city's best dining destinations. We're particularly excited to see menus from  The Bower (options include smoked trout deviled eggs with caviar, spicy ground shrimp spaghetti, teres major with crispy potatoes and a blueberry chimichurri, and blueberry hand pies or flourless chocolate cake for dessert), the family-style Spanish tasting menu from Costera, and fresh catches of the day at GW Fins. Commander's Palace also always shines during events like this in offering by far the most mix-and-match options on their brunch, lunch, and dinner menus. It's a great opportunity to try out some classics (like turtle soup or gumbo) while also getting dishes not usually found on the world-famous restaurant's menu. To see all participating restaurants and explore menus, click here.  
And finally, we're excited to try out some new offerings at some of our favorite places around the city this month. For starters, you've got the new happy hour at Yo Nashi, which not only features great drink specials but allows diners to choose a la carte dishes from the typically omakase-only menu. June 4th also welcomes brunch back to Compère Lapin, the first of three restaurants from James Beard Award-winning chef Nina Compton. With dishes like tater tots with crème fraiche and caviar, smothered rabbit with biscuit croquette, and French toast with rum caramel, pecans, and mint, it sounds delightfully decadent–just as brunch should be. But the dish we're most excited to get our hands on again is the everything bagel topped with tuna tartar and chili cream cheese. It's divine.

Where to Eat in New Orleans in June 2022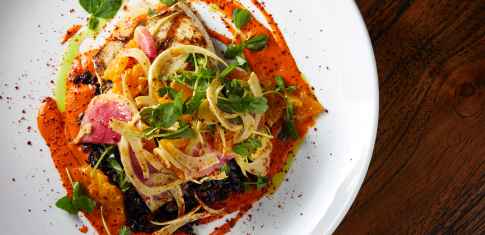 Where to Eat in New Orleans in June 2022