Springtime in New Orleans is in full swing, and the glorious weather means there's no better time to get out and about and explore everything the New Orleans culinary scene has to offer. First and foremost, the weather has us craving outdoor dining experiences - whether it's on modern patios or hidden French Quarter courtyards. For the latter, Jewel of the South is an excellent choice–we're especially fond of their caviar happy hour add-on to Sunday brunch service. Trep's is an excellent stop if you're out exploring the Lafitte Greenway by bike–we recommend the boudin eggrolls for a post-ride treat. Likewise, the snazzy patio at Sidecar is an excellent place to throw back some raw oysters and a cocktail or two on a breezy spring day, and you can also never go wrong at Copper Vine's outdoor oasis–their plant game there screams spring and will have you re-evaluating your green thumb. 
When it comes to new spots, we recently welcomed Couvant back into the mix. The signature restaurant at the Eliza Jane Hotel had been closed since the pandemic started, but recently re-opened its doors with Chef Ryan Pearson at the helm. Donald Link's Chemin a la Mer is another top pick on the newer side, especially for celebratory meals with a stunning view of the river. And finally, Queen Trini Lisa has graduated from her pop-up at Portside Lounge to a full-blown brick and mortar, and we couldn't be more excited. Her jerk chicken is addictive, but it's her doubles box that really steals the show. 
And finally, we're feeling extra celebratory this month with the announcement of the James Beard Awards finalists, featuring five nominees from four different restaurants across the city. First off, Brennan's, the iconic pink dining destination known for its Breakfast at Brennan's and the invention of bananas foster, is nominated for Oustanding Restaurant. Mosquito Supper Club, a love letter to Coastal Louisiana and the communities of fishermen and women who bring fresh seafood to our tables, has two separate nominations–one for Chef Serigne Mbaye as Emerging Chef and one for Melissa Martin as Best Chef: South. Also honored in the Best Chef: South category are chefs Blake Aguillard and Trey Smith from Saint-Germain, and Chef Isaac Toups from Toups Meatery. 
Still hungry? April brings some of our favorite festivals, including the return of Jazz Fest. If you're the type of festgoer who puts as much emphasis on what's going in your stomach as what's going in your ears, be sure to check out our Guide to the Best Jazz Fest Food. 

Where to Eat in April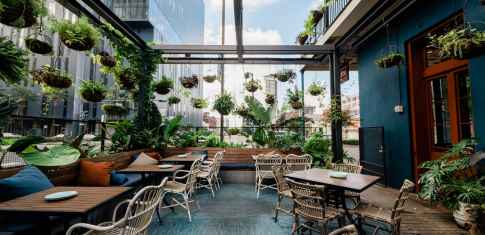 Where to Eat in April