Lunch – Back in the city, take the red Canal Street/City Park streetcar to the Ralph Brennan's award-winning restaurant, Ralph's on the Park.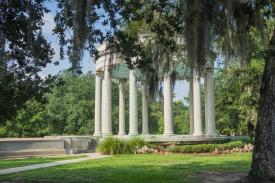 Afternoon – Spend the afternoon in City Park, famous for ancient oaks. Highlights of City Park include the Botanical Garden, the Peristyle, paddleboats, the antique wooden carousel, the New Orleans Museum of Art and the sculpture garden. 
Afternoon – Another afternoon option is to walk around the art galleries in the Warehouse and Arts District,  starting on Julia Street and working your way over to the Contemporary Arts Center on Magazine Street.
Dinner –  Since 1910, folks have been getting their oyster fix at Acme Seafood in the French Quarter. If you're not up for a dozen oysters, there's plenty more to tempt you on the menu, including seafood platters and the Acme "10 Napkin Roast Beef Po-boy."