The saying "April showers bring May flowers" could not be more true for New Orleans. The jasmine is in full bloom and its intoxicating smell, which seems to be synonymous with the beginning of summer, has us finding every excuse to be outside.  
But the jasmine is not all we're celebrating this month. Cinco de Mayo is quickly approaching and falls on a Wednesday this year, making it the perfect excuse to break up the work week with some tacos and margs. We are especially fond of the crispy beef and sweet potato tacos at Val's on Freret. Another great sweet potato option is the Farmer Taco from Barracuda on Tchoupitoulas. Both spots have great margaritas and ample outside seating.If you prefer your margarita to have a kick, try the jalapeno pineapple mezcal margarita from Johnny Sanchez, and pair it with their award-winning cauliflower taco or fried Des Allemands catfish taco with grilled corn salsa. For very traditional, elevated Mexican food, look no further than El Pavo Real in the Broadmoor neighborhood and Casa Borrega in Central City. Both spots feature menu items such as traditional mole, enchiladas, fried plantains, and delicious black beans. And for our budget-friendly folks looking to celebrate early, the Taco Tuesday special at Mr. Tequila on Freret cannot be beat: five street tacos (your choice of meat) for $5. 
We also get to celebrate our moms this month! Mother's Day falls on Sunday, May 9th, which is the perfect excuse to enjoy a decadent brunch with mom. Palm and Pine, Meril, and Broussard's are all featuring special Mother's Day menus which include items like soft-shell crab benedict, veal grillades with mascarpone grits, and coconut pain perdu with pineapple jam and rum caramel. The stunning Elysian Bar inside the Hotel Peter and Paul is sure to dazzle mom, and so will their French rolled omelet with smoked salmon and sweet potato sticky toffee pudding for dessert. And last but never least, cheers mom in the wisteria vine-covered courtyard at Court of Two Sisters while sharing some traditional eggs benedict or blackened fish with citrus beurre blanc.  
There are plenty of reasons to get out and celebrate this month, just be sure to stop and smell the jasmine! 

Where to Eat in May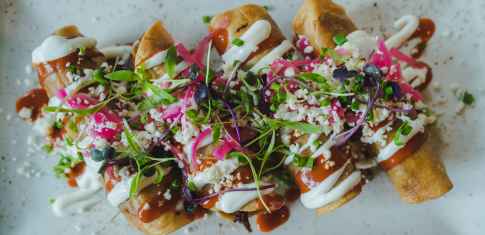 Where to Eat in May