The saying "April showers bring May flowers" could not be more true for New Orleans. The jasmine is in full bloom and its intoxicating smell, which seems to be synonymous with the beginning of summer, has us finding every excuse to be outside.  
Let's kick off the month celebrating Cinco de Mayo at some of our favorite outdoor taco spots. Whether it's the lush courtyard behind the recently re-opened Casa Borrega, the truly addictive charred broccoli tacos out on the patio at Barracuda, or the crispy beef belly or green mole tacos at Val's sleek gas-station-turned-cantina, there are enough options to keep your taco-tooth satisfied all month long. 
May also means Asian Pacific American Heritage Month, so why not celebrate by eating at one (or many) of our favorite Asian-owned eateries around town. We've been fans of Chef Sophina Uong's Mister Mao since it popped on the scene pre-covid (both the pani puri and Kashmiri fried chicken are divine), and were thrilled to see that their dim sum-style carts have returned for early dinner service on Thursday through Monday, as well as Sunday brunch.
Also Uptown, you'll find Miss Shirley's, the younger "sibling" of the much-beloved Metairie restaurant Royal China, now open along Magazine Street. Miss Shirley's will also scratch the dim sum itch, with a multitude of dumplings (including my personal favorite­–fun gow with peanut–which is a steamed dumpling filled with shrimp, pork, veggies, and peanuts), wontons, salt and pepper squid, and sticky rice in lotus leaf, among many other treats. Or you can opt for Chinese American staples, and other Cantonese dishes, like pineapple fried rice, ginger scallion chicken & beef, or tong chow chicken. I, for one, have my eye on the crispy duck wraps for my next visit. And finally, any and all lovers of Sichuan cuisine will especially appreciate the spicy offerings at Dian Xin (now with two locations on opposite ends of the Quarter), where the soup dumplings are a must.
There have also been a number of new openings from some of our favorite restaurant owners as of late, including Chef Mason Hereford's (Turkey and the Wolf and Molly's Rise and Shine) new table-service restaurant Hungry Eyes, which has a vaguely '80s theme and a menu full of what Hereford has dubbed "luxury drinking food," and plenty of martinis and other top-notch cocktails to wash it all down with. Looking for breakfast or lunch? Chapter IV, the new restaurant from the Chase family (of Dooky Chase's), offers classic New Orleans cuisine and some updated twists. The BBQ shrimp is bursting with flavor and available both as an appetizer or as part of a gloriously overstuffed omelet­­, grilled and blackened redfish comes with a side of crab fried rice, and crispy fried oysters sync up with spinach and hollandaise to become oyster benedict. Finally, from the same group that owns Costera comes Osteria Lupo. Where Costera focused on Spanish-style tapas, Osteria Lupo offers Northern Italian dishes meant for sharing, pizzas, pastas, and larger entrees including lasagna, and grilled lamb with a pistachio-mint salsa verde. They also have a solid list of Italian wines to choose from.   

Where to Eat in May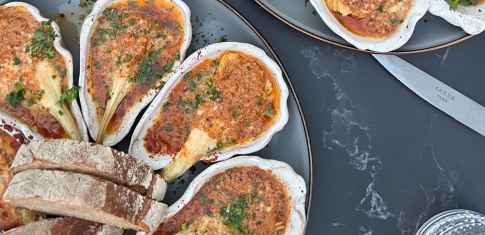 Where to Eat in May