December and decadence go hand in hand. While we may find ourselves still a little overstuffed from Thanksgiving feasts, it also seems like once you get on a roll of indulging, the fun doesn't stop until after the first. 
When it comes to getting into the holiday spirit, there's no better way to do it than with Reveillon. This tradition dates back to the early 19th century when New Orleanians would create extravagant meals to await them when they came home from midnight mass on Christmas Eve. These days, local restaurants offer multi-course pre-fixe menus all month long. You can't go wrong with any of the options, but two that stand out to us right now include Dickie Brennan's Tableau, which overlooks the decorations at Jackson Square, as well as Cafe Degas, which is a perfect date night destination after seeing the lights at Celebration in the Oaks.
Another holiday tradition that is near and dear to our hearts is the lineup of specialty latkes at Marjie's Grill. The celebration lasts all eight nights of Hanukkah and features a different twist on the beloved potato pancakes each night. Follow along on their social for more info. 
While we may have kicked off December with a cold snap, the weather stays mostly mild the whole month long, making outdoor dining ideal. A few courtyards and patios on our list this month include the gorgeous new hotel restaurant at The Chloe, tacos and margs on the side patio at El Cucuy, the adorable (and now partially shaded) backyard at Susan Spicer's Rosedale, and raw oysters and Boulevardiers at Sidecar.
Finally, we're rounding out our list with a couple of old favorites, including Magasin, which just reopened and makes an excellent stop in the midst of holiday shopping on Magazine Street (especially their Eat Fit NOLA options, just in case you're looking for something on the lighter side), Peewee's Crab Cakes' new home in Gentilly (just trust us and get the lump crab cake with a side of seafood Pontchartrain fries), and Small Mart, a Marigny takeout spot with some truly excellent bagels and vegetarian/vegan dishes to go. 
 

Where to Eat in December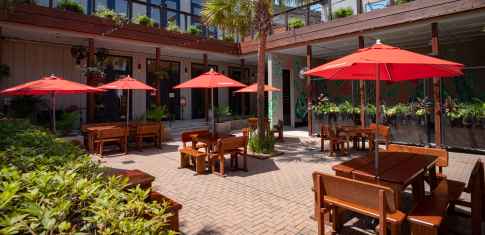 Where to Eat in December