New Orleans is known for its top-notch restaurant scene, and you'll find women at the helm of many of the city's best establishments. From James Beard Award-winning heavy hitters like Commander's Palace to a butcher/deli counter hybrid, these restaurants are truly in a league of their own. Explore some of our favorites below, or see our full list for even more ideas. 
Born in Texas and raised in Mexico City, Ana Castro grew up in her grandmother's kitchen. Her culinary curiosity led her to study at Le Cordon Bleu, where she trained in classic French cuisine. The early stages of Castro's career took her to India, Europe, and New York before she settled in New Orleans. Lengua Madre, first opened in the summer of 2021, is a distinctive restaurant that blends modern Mexican cuisine with elements of her family's past and utilizes locally sourced ingredients to tell a story through an ever-evolving, five-course tasting menu. This eatery was one of Bon Appetit's 2022 Best New Restaurants and named to New York Times' Restaurant List 2021 and Castro went on to be named one of Food & Wine's Best New Chefs 2022. It's a one-of-a-kind gem in the Crescent City and you won't be able to replicate your experience anywhere else. The seasonal menu changes every 5-6 weeks, so when you find yourself in New Orleans, you can anticipate something unique from Lengua Madre. Reservations are required and can be made same day when space is available.
Location: 1245 Constance St, New Orleans, LA 70130
Mosquito Supper Club prides itself on the unfiltered glimpse into Louisiana life that its menu provides. Meals at Mosquito Supper Club feel more like an intimate dinner party than a traditional restaurant–courses are served family-style, and, in many cases, diners sit at communal tables, turning strangers into friends as Martin weaves stories of her upbringing in Chauvin, La. into each dish that comes out of the kitchen. 
Central to Martin's cooking is her passion for sustainability, support of local fishermen and farmers, and having a true connection to the food that you bring into your kitchen. This restaurant offers a multi-course pre-fixed seasonal menu filled with authentic Louisiana recipes made with locally sourced goods. Because it is local and seasonal, you'll have to be in the city at the right time to experience Mosquito Supper Club. Their current season runs from September 2022 to July 2023. Reservations are essentially mandatory for the dining room, as all "tickets" are prepaid and nonrefundable. If you're unable to get a reservation, or just want to stop by for some oysters and a glass of wine, the bar is first-come-first-serve with an a la carte menu of snacks, natural wine, and cocktails.
Location: 3824 Dryades St, New Orleans, LA 70115
Meals from the Heart is one of the oldest operating vegan spots in the city. What initially began as meals cooked directly from Chef Marilyn Doucette's kitchen migrated to a stall in the French Quarter's historic French Market in 2016. The restaurant matured into a noteworthy attraction, with locals and tourists stopping in to taste their unique take on familiar Southern dishes. With health and community at the center of its mission, Meals from the Heart creates made-to-order clean, non-GMO, low-sodium meals you can feel good about. Walk-ins are welcome at this pleasant, low-key spot.
Location: 1100 N Peters St #13, New Orleans, LA 70116
Drinks anyone? Baroness on Baronne is the reimagining and reopening of New Orleans' gone but not forgotten Victory Bar. If you're headed downtown, this classy little spot, which is co-owned by local media personality Camille Whitford and actor Sidney Webb, is a must-visit for quality craft cocktails and delectable gourmet food options. In addition to their enchanting patio area, they have plenty of indoor seating to offer, complete with bar, booth, and table options. Weekend nights can get lively here, as drinks clink and as good tunes fill the air, creating the perfect atmosphere for a night out in New Orleans. Baroness on Baronne is open Wednesday-Sunday and walk-ins are welcome, though seating is first come first serve.
Location: 339 Baronne St, New Orleans, LA 70112
Originally opened on Magazine Street in 2017,  husband-and-wife duo Juan and Tatiana Lock recently opened a second location of Tito's Ceviche & Pisco on St. Charles Avenue in the Lower Garden District. They dish out delicious Peruvian cuisine and the energy within is fresh and fun. Treat yourself to their tempting drinks, enticing appetizers, and beautifully plated meals. If you've been looking to add some variety to your typical dining routine in the city, you'll want Tito's Ceviche & Pisco on your radar. The Magazine St. location currently serves lunch, happy hour, and brunch, and you can experience their dinner menu at the St. Charles location Monday through Saturday.
Location: 5015 Magazine St, New Orleans, LA 70115 and 1433 St Charles Avenue New Orleans, LA 70130
Sarita's Grill is the perfectly priced Latin fusion spot your Tuesdays have been missing. Tucked away in Uptown's Freret corridor, Sarita's Grill is a favorite for many locals who come for the cuisine and stay for the light and inviting atmosphere. Sarita's, which is both female-owned and family-operated, serves up perfectly balanced margaritas and authentic Cuban, Mexican, and Central American dishes that are easy to crave. Drop in for lunch on weekdays from 11 a.m. – 2 p,m, or join them for dinner between 5 p.m. and 8:30 p.m.
Location: 4520 Freret St, New Orleans, LA 70115
Opened by Vyoone S. Lewis, a fourth-generation New Orleanian native, Vyoone's is another family-owned and operated locale rooted deeply in the community that supports it. This eatery serves up New Orleans-inspired French fare with iconic dishes such as seafood pasta bouillabaisse and their award-winning crevettes de barbeque. Vyoone's menu includes standard a la cartê options, a pre-fixed tasting menu, and Sunday brunch. Make sure to pop in between 3-5 p.m. on Wednesday- Saturday to take advantage of their happy hour specials!
Location: 412 Girod St, New Orleans, LA 70130
Cambodian-American Chef Sophina Uong has been fascinated by Southern cuisine since she started cooking 25 years ago at some of San Francisco Bay Area's most acclaimed restaurants. In 2021, the "Chopped" Grill Master Champion opened her first solo restaurant, Mister Mao, in New Orleans. There Chef Uong melds the flavors and ingredients of Laos, Cambodia, and other Asian Pacific islands with Southern technique and tradition, resulting in bold, flavorful "inauthentic" cuisine. Diners can expect dishes like such as Kashmiri Fried Chicken; Plaquemine Parish Kale Pakora; Pani Puri with Camellia red beans and fiery mint water, Alabama Corn Pudding, and Backwater Duck Confit. Since opening, Uong has earned raves and accolades for her out-of-the-box creative cuisine including "50 Best New Restaurants 2022" by Bon Appètit; Restaurant Hospitality's "Chefs Power List 2022;" Thrillist "Best Restaurants New Orleans," and Houston Chronicle "Best New Restaurants in New Orleans."
Location: 4501 Tchoupitoulas St, New Orleans, LA 70115
Backatown is an inspired and comfortable coffee shop and gathering house located on Basin Street. In addition to their generous coffee and drink menu, they also serve baked goods, breakfast and brunch items, and sandwiches. Backatown aims to be an ideal and welcoming meeting place for people of varying backgrounds and interests, fostering a familiar feeling of community that New Orleanians know and love. Stop by and soak in their homey, artistic aesthetic while they prepare your morning pour. Backatown Coffee Parlour is open from 8 a.m-3 p.m. every day.
Location: 301 Basin Street, Ste 1, New Orleans, LA 70112
As the name suggests, Two Sisters in Da East is in New Orleans East, located right on Chef Menteur Hwy. This casual soul food spot offers a wholesome take on many classic Southern recipes. Their gumbo, shrimp and okra, and BBQ Ribs are just a few favorites of regulars who rave about their experiences, describing them as quaint, delicious, and reliable. They're closed Tuesdays and Saturdays, but you can catch them every other weekday between 10:30 a.m. and 5 p.m., and from 8 a.m.- 4:30 p.m. on Sundays.
Location: 9901 Chef Menteur Hwy, New Orleans, LA 70127
Flour Moon Bagels began as an early Covid-era side-hustle pop-up out of the kitchen of pastry chef Breanne Kostyk's 7th Ward home and recently opened as a brick-and-mortar along the Lafitte Greenway. This New York-inspired bagelry makes its product fresh daily and has an array of fresh juice, coffee, and cocktails on its bright and refreshing menu. Guests can buy single bagels or get them by the dozen. They also serve a variety of sandwiches and tartines. They're open every day except Wednesdays, between 7:30 a.m. and 2 p.m. during the week and 8 a.m. – 3 p.m. on weekends.
Location: 457 N Dorgenois St., New Orleans, LA 70119
Commander's Palace is a well-known staple in the city that has more than earned its position as such. The Commander's legacy began when Ella, Dottie, Dick, and John Brennan took over the space in 1974, and that legacy has continued under cousins and co-owners Ti Martin and Lally Brennan. The lineup of chefs to have graced the kitchen includes some of the biggest names in New Orleans culinary history, including Emeril Lagasse, Paul Prudhomme, Serigne Mbaye, and Tory McPhail. In late 2020, Meg Bickford made Commander's history by becoming the first female executive chef at the restaurant. Diners can expect an intoxicating, Southern-inspired menu blissfully enveloped in a charming and upscale atmosphere. This inimitable eatery stands out boldly on a shady little corner of Washington Avenue in the Garden District of Uptown New Orleans. You can enjoy Commander's dinner menu every night from 6-9:30 p.m. They offer lunch from 11:30-2:30 p.m. Thursday and Friday, and brunch Saturday and Sunday mornings.
Location: 1403 Washington Avenue New Orleans LA 70130
Compere Lapin is the brainchild of the James Beard award-winning chef Nina Compton and her partner Larry Miller. You'll find this gem hidden inside the beautifully outfitted boutique hotel, The Old No. 77 Hotel and Chandlery. Compere Lapin hosts a full bar with some of the best mixologists in the South. Nina has formulated a menu that perfectly blends Caribbean flavors with French, Southern, and American influences. Fans of Compton's cooking can also check out her second restaurant, Bywater American Bistro.
Location: 535 Tchoupitoulas, New Orleans, LA 70130
What initially began as a neighborhood casual sandwich and snack outpost with an adjoining nose-to-tail butcher shop and grocery has since morphed into a full-scale steakhouse. Chef Leighann Smith opened the Mid-City space with co-owner and co-chef Dan Jackson in 2018, but the pandemic caused them to pivot the business from grab-and-go to fine dining, with a menu that boasts top-notch steaks (including Wagyu) and playfully decadent takes on classic steakhouse sides. They also offer brunch on the weekends, and you can also bring a taste of the restaurant home no matter where you live by ordering their house-smoked sausages and boudin eggrolls on Goldbelly.
Location: 3301 Bienville St. 

Women-Owned Restaurants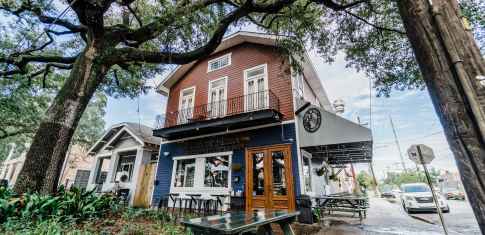 Women-Owned Restaurants