Between crawfish season ramping up and the return of Lenten fish fries, March in New Orleans is a seafood lover's dream come true. There are tons of great options for grabbing a sack of freshly boiled crawfish to go, but you absolutely can't go wrong with a pound or two from Clesi's. If you're looking to spice it up a bit, head to the Irish Channel to try out Boil Seafood House, where their balcony overlooking Magazine Street and Viet-Cajun seafood boils are a match made in good-weather heaven.
There is also no shortage of amazing fried fish options in the city this month, with a special nod to the Louisiana Hospitality Foundation and United Way of S.E. Louisiana for their Fish Fry Fridays, which helps to fund Hospitality Cares, a crisis grant foundation supporting the state's hospitality workers during this difficult time. 
The dishes we've got our eyes on include the whole fried fish for four from Pêche, the fried fish Pontchartrain from Mahony's, or the fish fry sandwich from The Munch Factory. 
And finally, we're celebrating Women's History Month by making a plan to dine out at some of our favorite female-owned restaurants and eateries. We're looking forward to indulging in gulf oysters in the dreamy confines of Mosquito Supper Club's courtyard and spicy jerk chicken with an order of Trinidadian doubles from Queen Trini Lisa, just to name a few. And finally, if you're looking for some good date night options, you really can't go wrong with the classic Italian cuisine at Irene's or the Caribbean-French fare at Compère Lapin. 

Where to Eat in March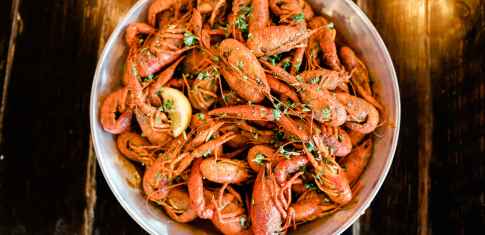 Where to Eat in March