It's a new year in New Orleans, and even if you're not the type to make resolutions centered around healthy eating, you may still find yourself craving crunchy green things following indulgences over the holiday season. Hungry for salad but don't want to sacrifice flavor? We've got your back with our list of the best salads in New Orleans, including the Miso Salmon Salad from Birdy's Behind the Bower and the Mexicali Blues from Daily Beet. 
Or if you've made it your mission to make the switch to a more plant-based diet after the first, check out our guide to vegan dining, which is full of suggestions not only for fully vegan spots but also restaurants that are particularly accommodating to vegan/vegetarian diners. If you're hungry for veganized versions of New Orleans classics, try out Sweet Soulfood for vegan meals that also scratch the itch for hearty Southern comfort food (think okra gumbo, jambalaya, and red beans, just to name a few), or opt for avocados stuffed with chickpea remoulade at Max Well. We're so enamored with the vegan fried "oysters" (oyster mushrooms, that is) at I-Tal Garden, that we added it to our list of 22 Dishes that you must try in 2022. 
Other picks for top dishes for next year? The luxuriously decadent Lobster Bucatini from Hotel Saint Vincent's gorgeous coastal Italian eatery San Lorenzo. We also paid homage to legendary New Orleans eateries, like Dooky Chase and their stuffed shrimp. Hop on over to the full list of must-eat, can't-miss dishes here.
 
And finally, the beginning of January also marks the return of one of New Orleans' most beloved treats–the king cake! You can find them all around the city starting January 6 (indulging any earlier than that is considered bad luck–and after the past two years, we need all the good vibes we can get). We've been waiting all year to get another bite of the Elvis king cake from Boulangerie–it features peanut-butter-and-banana-filled brioche topped with toasted marshmallow fluff, crumbles of house-made bacon, and Mardi Gras sprinkles. Or you can try out the cult classic Chantilly Lace king cake from Bywater Bakery–it's filled with mascarpone whipped cream and fresh berries. Traditionalists who still like a bit of flair will love Sucre's signature cake, which ensconces classic cinnamon brioche in glittering, glistening icing. It's almost too beautiful to eat. See our full guide to King Cakes here for even more drool-worthy inspiration. 
 

Where to Eat in January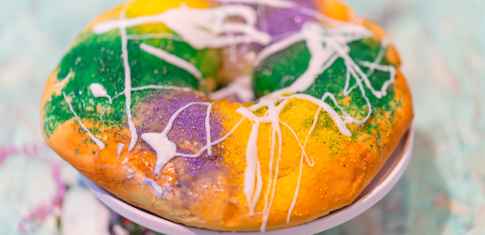 Where to Eat in January