It's a new year in New Orleans, and perhaps you've made it your resolution to take a more plant-based approach to eating. Lucky for you, we've got a pretty useful guide to vegan dining, which is full of suggestions not only for fully vegan spots but also restaurants that are particularly accommodating to vegan/vegetarian diners.
If you're hungry for veganized versions of New Orleans classics, try out Sweet Soulfood for vegan meals that also scratch the itch for hearty Southern comfort food (think okra gumbo, jambalaya, and red beans, just to name a few), or opt for vegan pho at Lilly's Café – a local favorite for Vietnamese in the heart of the Lower Garden District. We also have it on good authority that the crabless cakes and cauli-wings at I-Tal Garden are indeed something to write home about, so much so that they were named to our list of 23 of the best things to eat in New Orleans in 2023.
Other picks for top dishes for this coming year? If you're going decadent, try the Boudin Boy from Ayu Bakehouse – it's layers of perfect puff pastry filled with spicy Cajun sausage and a hard-boiled egg. Or try the Bourbon Street Love from Heard Dat Kitchen (Chef Mason Hereford's pick), which features crispy fried chicken on a bed of mac'n'cheese, smothered in creamy crawfish sauce. On the lighter side, the Roasted Lemonfish from The Chloe is delicate but still rich in flavor, or start a meal at Palm&Pine with their house salad, which one member of our social media team claims made her "see God."
And finally, the beginning of January also marks the return of one of New Orleans' most beloved treats–the king cake! You can find them all around the city starting January 6 (indulging any earlier than that is considered bad luck–and after the past two years, we need all the good vibes we can get). We've been waiting all year to get another bite of the Elvis king cake from Boulangerie–it features peanut-butter-and-banana-filled brioche topped with toasted marshmallow fluff, crumbles of house-made bacon, and Mardi Gras sprinkles. Or you can try out the cult classic Chantilly Lace king cake from Bywater Bakery–it's filled with mascarpone whipped cream and fresh berries. Traditionalists who still like a bit of flair will love Sucre's signature cake, which ensconces classic cinnamon brioche in glittering, glistening icing. It's almost too beautiful to eat. See our full guide to King Cakes here for even more drool-worthy inspiration. 
 

Where to Eat in January 2023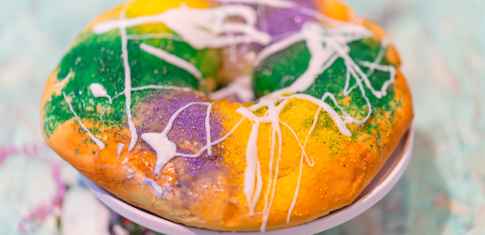 Where to Eat in January 2023