I look forward to COOLinary every year as an opportunity to try restaurants that either I haven't yet, or that I love and adore, at a price point that feels great! I think we could all use a little extra joy this year, and for me, food has always been a vehicle for joy. I love tasty food and beautiful meals, and that doesn't have to end while we're all navigating these difficult times.
During this time, I've been supporting my favorite spots, and the new kids on the block, mostly via takeout. I've had a blast bringing meals home and plating them to create a restaurant vibe!
All that to say, I was thrilled to see that COOLinary is providing takeout options this year! All you need to create stunning meals at home is some patience and creativity.
Patience: I struggle with this one because I often want to devour whatever is in my take out containers as soon as I get home, but if you want to plate it nicely, you're gonna have to wait!

Creativity: carefully (see: patience) remove your meal from the takeout containers and rebuild it on your favorite plates, platters, or bowls. Layering is important here! You don't want to just plop it onto your plate. Make sure you add any of the herbs, peppers, or accouterments the restaurant has provided as a way to add color to your plate.
That's it, y'all! Two easy steps to elevate your takeout and dining at home experience, while also supporting our local businesses. Remember that COOLinary has been extended to September 13th (some places are even extending their menus further into September) and there are over 70 restaurants participating!
Go to COOLinaryNewOrleans.com to look through all of the menus and options.
A few tips on my picks below:
Meauxbar - This is a prix-fixe meal and everything is exquisite. If you're an escargot lover, then you must try this meal!

The Elysian Bar - I recommend their eggs in purgatory dish as a stunning brunch option.

Backatown Coffee - I love their shrimp and grits for a cozy brunch.

The Munch Factory - Definitely get those fried ribs for lunch, and their soup du jours are always great!

Bywater American Bistro - I recommend the cabbage salad starter and the pork belly entree. You won't be disappointed by either!
You can follow all of my dining adventures on my Instagram blog: @eatenpathnola! Feel free to send me a message there about your favorite ways to elevate takeout and where you've enjoyed COOLinary this year.

5 COOLinary Faves From @eatenpathnola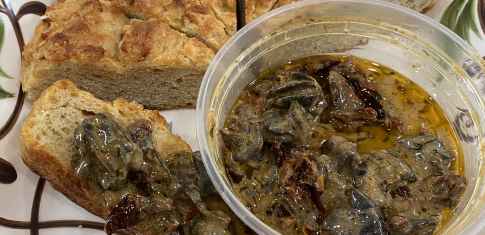 5 COOLinary Faves From @eatenpathnola