NOLAxNOLA '21:
SHOW YOUR LOVE! A VIRTUAL CELEBRATION OF NEW ORLEANS
TO SUPPORT MUSIC-BASED COMMUNITY NONPROFITS WITH
 NEVER-BEFORE-SEEN LIVE PERFORMANCES AND MORE
FEATURED ARTISTS INCLUDE:
IRMA THOMAS, THE REVIVALISTS, BIG FREEDIA, GALACTIC,
TANK AND THE BANGAS, PRESERVATION HALL JAZZ BAND,
AND A VERY SPECIAL CELEBRATION OF DR. JOHN
TWO-NIGHT EVENT POWERED BY DIGITAL FUNDRAISING PLATFORM FANDIEM,
WITH ALL DONATIONS ENTERED TO WIN ONCE-IN-A-LIFETIME NEW ORLEANS
PRIZES AND EXPERIENCES, INCLUDING GOLDEN TICKET PASSES TO THE CITY'S
MUSIC VENUES AND A MARDI GRAS PARADE RIDE WITH BIG FREEDIA
NOLAxNOLA '21:
SHOW YOUR LOVE! A VIRTUAL CELEBRATION OF NEW ORLEANS
SET FOR NOVEMBER 19 AND 20 AT 9 PM (ET)/8 PM (CT)
FREE TO VIEW EXCLUSIVELY VIA NOLAxNOLA.COM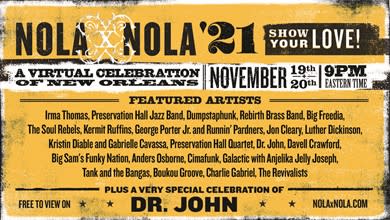 NOLAxNOLA, presented by New Orleans & Company, is celebrating the overwhelming success of last month's inaugural citywide festival, which featured more than 300 music performances in 35 New Orleans venues over ten days in October and which saw music return citywide.  NOLAxNOLA '21: Show Your Love! A Virtual Celebration of New Orleans is a landmark virtual fundraiser event showcasing never-before-seen performances and more by some of New Orleans' most iconic artists and legends, all benefiting community-based nonprofits dedicated to fostering the music culture of New Orleans. Powered by the digital fundraising platform Fandiem, NOLAxNOLA '21: Show Your Love! A Virtual Celebration of New Orleans is set for November 19 and 20, beginning both nights at 9 PM (ET)/8 PM (CT), free to view exclusively via www.nolaxnola.com.
NOLAxNOLA '21: Show Your Love! A Virtual Celebration of New Orleans will feature electrifying live performances from an array of New Orleans artists, spanning up-and-coming talent, rising stars, and undisputed musical royalty including Irma Thomas, The Revivalists, Big Freedia, Galactic, Tank and the Bangas, the Preservation Hall Jazz Band, and many more. Among the two-night event's certain highlights will be a very special all-star musical celebration of the late, great Dr. John plus his exclusive never-before-seen performance footage.
Produced by Paul Peck (longtime Bonnaroo SuperJam producer, Okeechobee Festival co-founder, and producer of last year's all-star Save Tip's livestream benefit show) and directed by acclaimed filmmaker Martin Shore (Take Me To The River and the upcoming Take Me To The River NOLA), the two-night event will support six New Orleans-based community nonprofits, including The Roots of Music, Trombone Shorty Foundation, Tip-It Foundation, Preservation Hall Foundation, New Orleans Musicians' Clinic & Assistance Foundation, and Upbeat Academy Foundation.
Fandiem will further support NOLAxNOLA '21: Show Your Love! A Virtual Celebration of New Orleans with a number of exclusive sweepstakes, auctions, and more, allowing fans to "Donate To Win" such once-in-a-lifetime experiences and prizes as a chance to ride with Big Freedia in a Mardi Gras parade, a virtual hangout with Dumpstaphunk, and "Golden Tickets" to Tipitina's, Howlin' Wolf, the Maple Leaf, the Fillmore and House of Blues, and Frenchmen Street venues during next year's New Orleans Jazz & Heritage Festival 2022. For complete details, please visit fandiem.com/nolaxnola.
"It's been a long time since our community around the globe was together to celebrate the New Orleans music and flavor that we all love so much," says Paul Peck, co-founder of NOLAxNOLA. "In that spirit we're throwing a two night party of musical treats and storytelling. Our beloved venues and community can use the support now more than ever and some lucky donors will win some of the most unimaginable New Orleans experiences ever."
"New Orleans & Company is proud to present NOLAxNOLA and support our musicians and music culture, the lifeblood of New Orleans cultural economy," said Stephen Perry, President and CEO of New Orleans & Company. "We also hope watching this incredible lineup of talent this weekend will inspire music-lovers from around the world to plan a trip to New Orleans in 2022."
NOLAxNOLA '21:
SHOW YOUR LOVE! A VIRTUAL CELEBRATION OF NEW ORLEANS
NOVEMBER 19 & 20 @ 9 PM (ET)/8 PM (CT)
FREE TO VIEW ON NOLAxNOLA.COM
FEATURED ARTISTS:
Irma Thomas
Preservation Hall Jazz Band
Dumpstaphunk
Rebirth Brass Band
Kermit Ruffins
The Soul Rebels
George Porter Jr. and Runnin' Pardners
Jon Cleary
Luther Dickinson
Kristin Diable and Gabrielle Cavassa
Preservation Hall Quartet
Dr. John
Davell Crawford
Big Sam's Funky Nation
Anders Osborne
Cimafunk
Galactic with Anjelika Jelly Joseph
Tank and the Bangas
Boukou Groove
Charlie Gabriel
Big Freedia
The Revivalists
PLUS A VERY SPECIAL CELEBRATION OF DR. JOHN'S MUSICAL IMPACT AND LEGACY
About NOLAxNOLA
NOLAxNOLA is a coalition of New Orleans artists, venues, and cultural leaders, in partnership with New Orleans & Company, that have banded together with the initial goal of supporting one another and keeping the music community and culture bearers strong during this difficult time, while following all safety guidelines. NOLAxNOLA further seeks to support the health and growth of the New Orleans artistic community by creating opportunities to celebrate the city's position as one of the world's most vibrant cultural centers.
NOLAxNOLA '21: "Show Your Love!" features a huge cast of New Orleans artists including: Irma Thomas, Preservation Hall Jazz Band, Dumpstaphunk, Rebirth Brass Band, Big Freedia, Galactic, The Revivalists & many more PLUS a very special celebration of Dr. John with exclusive never-before-seen footage of him. Check out all the awesome prizes offered and RSVP to the show by signing up with your email at nolaxnola.com.

About Fandiem
Fandiem is a digital fundraising platform that harnesses the power of the fan community to do good in the world. With their donation to a selected nonprofit, fans are entered to win once-in-a-lifetime experiences and prizes from their favorite artists, festivals, athletes, and creators. These are the opportunities that were previously available only to a select few but through Fandiem are awarded to the everyday fan at the heart of the community.
The Fandiem Foundation is a project of The Giving Back Fund, a national 501c3 organization that encourages and facilitates charitable giving. The Giving Back Fund grants donation proceeds to each campaign's partner nonprofit. For more information on Fandiem visit www.fandiem.com.
About New Orleans & Company
New Orleans & Company is a nationally accredited, 1,100-member destination marketing organization and the largest and most successful private economic development corporation in Louisiana. New Orleans & Company and its members and partners influence thousands of decision-makers and millions of visitors to choose New Orleans through direct sales, marketing, public relations, branding, visitor services and local advocacy initiatives at our New Orleans headquarters. Consistently recognized as one of the top five destination marketing organizations in the country, New Orleans & Company celebrates its 61st anniversary in 2021. For more information, please visit NewOrleans.com.