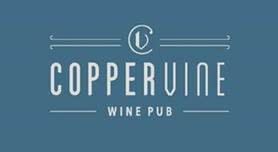 HAND-PICKED WINE MEETS HAND-CRAFTED FOOD:
COPPER VINE TO DEBUT WEDNESDAY, SEPTEMBER 5, 2018
Copper Vine, the highly anticipated wine pub and restaurant by Brechtel Hospitality Group (BHG) and Chef Mike Brewer, will open to the public on Wednesday, September 5, 2018 at 1009 Poydras Street in New Orleans' Central Business District. The historic indoor/outdoor gathering place will offer a culinary and cultural experience aimed to demystify wine in a fun and relaxed setting.
Copper Vine is the brainchild of Kyle Brechtel, one of Gambit Weekly's "Top 40 under 40" and founder/President of BHG, which also owns Fulton Alley and Bonfire Catering. Like a fine grape during fermentation, the vision behind Copper Vine began to form after Brechtel visited dozens of wine bars around the country and realized many seemed intimidating and geared toward a specific audience. "I wanted to create an approachable neighborhood spot where friends could come drink great wine, eat incredible food and just hang out.  Whether you're an amateur or expert; a wine lover or a cocktail enthusiast, Copper Vine has something for everyone." Brechtel built the concept based on the "pub" or "public house" philosophy - a relaxed, social establishment where friends and acquaintances gather to drink and/or enjoy a meal.
For the wine program at Copper Vine, Brechtel installed a state-of-the-art wine tap system which eliminates many of the problems that come with traditional bottle service such as oxidation, waste, speed of service, and cost. 30 familiar varietals will be available on tap, available by-the-half-glass, glass, carafe and bottle. Wine flights will also be on offer, allowing guests to explore the many flavors and varietals. An additional 20 glasses poured via Coravin, will reflect greater breadth and introduce lesser-known wines from around the world. The Coravin system will also allow guests to taste higher end wines that are not typically poured by-the-glass. Although the offerings are robust, Copper Vine seeks to make the wine ordering process accessible, easy, and fun for guests whether or not they know the difference between a Bordeaux or a Burgundy. Copper Vine will also feature 8 local beers on tap, as well as a selection of classic cocktails and premium spirits.
The food at Copper Vine will be equally enticing with a menu developed by Chef Mike Brewer who has worked for notable spots including Brennan's, Commander's Palace and his award-winning sandwich spot, The Sammich, where he took home the crown as the 2015 King of Louisiana Seafood. Each dish is designed with great consideration for the wine and reflects Brewer's creative interpretations of gastropub cuisine. Snacks ($4 and up) are perfect for sharing and include deviled eggs topped with jumbo lump Louisiana crab meat; beef carpaccio with Tabasco® pickled strawberries, pea shoots, snow peas and shaved radish; Murder Point oysters with pineapple-mint gelée, topped with Cajun caviar; and a daily selection of creative toasts. Flatbreads ($11 - $15) run the gamut from duck confit with bacon jam, goat cheese and micro arugula to escargot with shiitake mushrooms, house made bacon, pork trotter marinara, preserved lemon and charred onion. Soups & Salad ($6 - $16) will include a quail and boudin gumbo and roasted beets with honey whipped goat cheese and green beet pesto. Mains ($12 - $22) are next level with selections like crispy pork belly with braised collards, cornbread pudding, and mushroom demi; chicken fricassee with crawfish boil peanuts and boudin rice; gnocchi with citrus cream, mint and jumbo lump Louisiana crab meat; short rib with whipped parmesan, edamame and veal demi; and Cajun bouillabaisse - Redfish, crab, shrimp and sautéed vegetables in a seafood broth. Desserts offer a perfect ending to dinner with light but decadent flavors. Options include buttermilk pie with berry compote and Vietnamese coffee ice cream and goat cheesecake with basil ice cream.

Designed by New Orleans based Studio West Design & Architecture and Spackman Mossop Michaels Landscape Architects, the 175-seat, 4,000 square feet indoor/outdoor space honors the history of the landmarked building with an old New Orleans charm, but with a careful consideration for modern aesthetic.
Originally constructed in 1876 as the Maylie's residence and Maylie's Restaurant, the two-and-one-half-story Edwardian-style building is at once a tribute to the past and a vision of the future. Upon entering, guests are surrounded by a lush tropical courtyard, inspired by the wisteria vine that grew throughout Maylie's. Hanging ivy, ferns, and vines create an intimate feeling and offer respite from the hustle and bustle of Poydras. Relaxed bench seating, throw pillows, blue textured outdoor rugs, and elegant Danish inspired outdoor furniture create a unique space to unwind. 
Inside, the vibe shifts to casual lounge gastropub. The original historic oak and marble bar serves as the focal point of the space, where 38 copper and tigerwood taps offer thirsty guests an array of wines and local craft beers. Saddle colored leather bar stools and antique mirrors complete the look. The airy and spacious dining room features a variety of seating options, from an eight-seat walnut communal table to banquettes and round high-tops. Curated local artwork and historic photographs and postcards adorn the walls, while hints of copper are found throughout the interior. Upstairs, the wrap-around balcony and light-filled dining rooms offer spectacular views of the city, as well as a variety of private dining options.
Copper Vine, located at 1009 Poydras Street in New Orleans' Central Business District, will open to the public on Wednesday, September 5, 2018.  The restaurant will start with dinner only, 5PM-10PM Sunday – Thursday; 5PM – 11PM Friday and Saturday. Bar opens at 3PM daily.  Lunch and weekend brunch to follow. For further information or reservations, please visit www.coppervinewinepub.com or call (504) 208-9535.
Stay up to date on social media:
Facebook & Instagram – @coppervinewinepub
Media Contacts:
Lauren Busch/Anabel Mendez
Brustman Carrino Public Relations
nola@brustmancarrinopr.com
(305) 573-0658