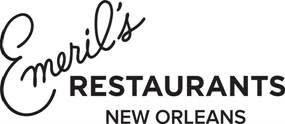 EMERIL'S RESTAURANTS IN NEW ORLEANS TO BECOME THE ONLY IN THE SOUTH TO RECEIVE EXTREMELY RARE SALMON FOR LIMITED FEATURE ON MENUS
(NEW ORLEANS) – September 6, 2018 – Emeril's restaurants in New Orleans are preparing to welcome the king of King salmon into their kitchens and onto their menus. The restaurant group will become the recipient of one of four Ora King Tyee Salmon coming to the U.S. from New Zealand in September. The remaining fish will be shipped to New York City (1), Boston (2) and one to Germany. Only five Tyee salmon were harvested this month.
Tyee translates to "chief" in the local language of British Columbia, Canada, which is where the fish originated. Weighing in at 30+ pounds, the deeply marbled, yet firm fish is known for its creamy and delicate flavor, and is often compared to bluefin tuna due to its high oil content.
The delicacy will appear on menus September 8 by way of special appetizer offerings. Dishes will include:
Emeril's Delmonico

Ora King Tyee Salmon Tartare, with preserved lime, cucumber yogurt and shishito peppers

Emeril's New Orleans

Skillet Seared Ora King Tyee Salmon, with garlic butter, Calabrian chili, sea salt and lime

Meril

Ora King Tyee Salmon Tostada, with pickled jicama, avocado and micro-cilantro

NOLA Restaurant 

Ora King Tyee Salmon Crudo, with banana pepper chimichurri, Asian pear, pistachio and watermelon aguachile
The appetizer specials will be available for one day only, until they sell out. Additionally, Emeril's restaurants in New Orleans will receive one fish per month through December and will create different dishes to be available on a limited time basis, to be announced.
To learn more about Emeril's restaurants in New Orleans, visit www.emerilsrestaurants.com. Reservations are encouraged.
About Chef Emeril Lagasse's Restaurants
Chef Emeril Lagasse is the chef/proprietor of 11 award-winning restaurants, including four in New Orleans (Emeril's, NOLA, Emeril's Delmonico and Meril); three in Las Vegas (Emeril's New Orleans Fish House, Delmonico Steakhouse and Lagasse's Stadium); one in Miramar Beach, Florida (Emeril's Coastal Italian); and three at the Sands Casino Resort in Pennsylvania (Emeril's Fish House, Emeril's Chop House and Burgers And More by Emeril).
Lagasse opened his first restaurant, Emeril's New Orleans, in 1990 to national acclaim. He opened his first Las Vegas property, Emeril's New Orleans Fish House at the MGM Grand in 1995. Lagasse's restaurants consistently win critical praise and top ratings. Delmonico Steakhouse has received the prestigious "Grand Award" from Wine Spectator magazine every year since 2004.
###
Contact:          
Carrie DeVries
DEVENEY on behalf of Emeril's restaurants in New Orleans
(504) 949-3999, ext. 209
cdevries@deveney.com