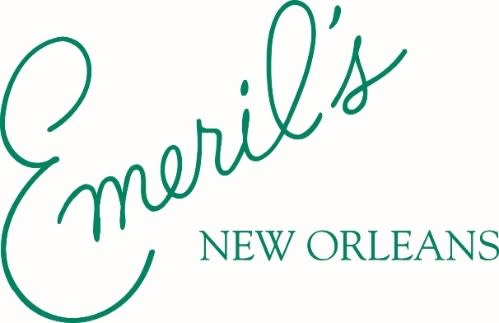 EMERIL'S NEW ORLEANS REOPENS WITH KITCHEN UPGRADES, FALL MENU OFFERINGS, NEW CHEF'S TASTING EXPERIENCE AND EXTENDED HOURS
(NEW ORLEANS) – September 5, 2018 – Chef Emeril Lagasse's nationally acclaimed flagship location, Emeril's New Orleans, will reopen starting for dinner on Friday, Sept. 7, following a three-week kitchen renovation. Among the changes are upgraded kitchen appliances and light fixtures, brighter wall tiles and new flooring.
Situated in the heart of the city's iconic Warehouse District, Emeril's New Orleans has been serving its famed cuisine for nearly 30 years.
In addition to the kitchen upgrades, guests will notice some changes to the menu as well. Chef de Cuisine Douglas Braselman will introduce new fall menu offerings and will be rolling out a new Chef's Tasting Experience on Sept. 15, to be available nightly.
Fall menu additions will include items like Coconut Curry Mussels and Sugar Cane Lacquered Duck, complete with desserts like Chocolate Olive Oil Flourless Cake and Beet Red Velvet Cake.
The Chef's Tasting Experience is prix fixe and will include a five-course menu starting at $75 per person. The menu will rotate often to feature local and seasonal ingredients, teasing palates one night at a time. To complement the menu, wine pairings will also be available starting at $40. Menu updates will be available online.
Emeril's New Orleans will also be among some of New Orleans' top restaurants participating in Restaurant Week, Sept. 10 – 16. The three-course menu will include Seafood Stuffed Artichoke, Pan Roasted Stripped Bass and Emeril's Banana Cream Pie for just $39 per person.
It wouldn't be fall without football in New Orleans and Emeril's is getting in on the action with extended hours for select Saints home games. Each restaurant will be offering the dinner menu and full bar only for each of the following dates and times:
Sundays, Sept. 9, Sept. 16, Nov. 18 and Dec. 30
Monday, Oct. 8
Sundays, Nov. 4 and Dec. 23
Emeril's New Orleans is located at 800 Tchoupitoulas Street. The restaurant is open for lunch Monday – Friday at 11:30 a.m., and dinner nightly at 5 p.m. To make a reservation or to view the entire menu, call (504) 528-9393 or visit Emeril's New Orleans website.
About Emeril's New Orleans
Located in the heart of the warehouse district, Emeril's New Orleans is Chef Emeril Lagasse's flagship restaurant. The bustling dining destination has been the talk of the town since its opening in 1990 and has earned rave reviews and accolades for 25 years, including Esquire magazine's "Restaurant of the Year" and Wine Spectator's "Grand Award" for 19 consecutive years. Credited as the birthplace of Chef Emeril's infamous "new New Orleans" cuisine, the restaurant consistently pushes culinary boundaries and explores bold and diverse flavors, remaining a definitive force in contemporary New Orleans culinary culture. 
For more information, news and updates on Emeril's New Orleans, visit EmerilsRestaurants.com/Emerils-New-Orleans or find us on Facebook, Twitter and Instagram.
The information contained in this e-mail is confidential and/or proprietary to Deveney Communication and/or its affiliates. The information transmitted herewith is intended only for use by the individual or entity to which it is addressed. If the reader of this message is not the intended recipient, you are hereby notified that any review, retransmission, dissemination, distribution, copying or other use of, or taking of any action in reliance upon this information is strictly prohibited. If you have received this communication in error, please contact the sender and delete the material from your computer.
###
Media Contact:
Carrie DeVries
DEVENEY on behalf of Emeril's Restaurants
cdevries@deveney.com
(504) 949-3999, ext. 209