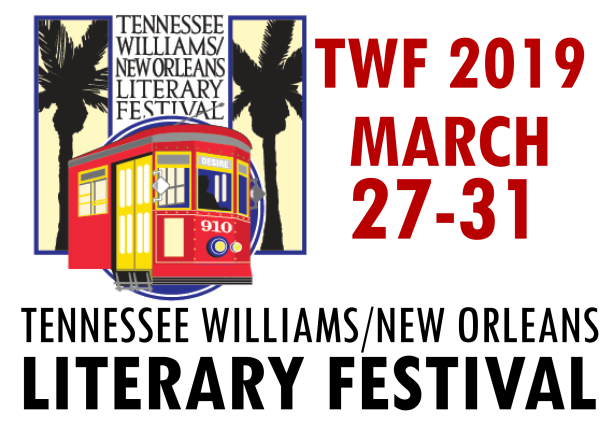 An Evening of Desire
Performances Inspired by the Works of Tennessee Williams
NEW ORLEANS—The Tennessee Williams/New Orleans Literary Festival  is  staging a benefit called "An Evening of Desire," on Tuesday, October 9, 2018, inspired by the Pulitzer Prize winning playwright's themes of desire and passion. 
The evening begins at 6:30 p.m.with a Cocktail Hour and Hors d'oeuvres, followed by the performance  at 7:30 p.m. The event takes place at the new WYES Kornman Performance Studio at 916 Navarre  Avenue. 
Tickets are $75 for the general public and $60 for 2018-19 Festival members. Proceeds will benefit the programming for the upcoming 2019 Tennessee Williams/New Orleans Literary Festival. 
Guests will enjoy music, scenes from plays and poetry by and inspired by the works of Tennessee Williams. Featured performers include Beth Bartley, Leslie Castay, Brenda Currin, Todd d'Amour, David Hoover, Nell Nolan and Francine Segal. Tickets available at www.tennesseewilliams.net or by calling 504-581-1144.
The Tennessee Williams/New Orleans Literary Festival will take place March 27-31, 2019. Visit the Festival website and social media platforms for announcements regarding #TWF19 speakers, events, and performances.
The Tennessee Williams/New Orleans Literary Festival, now in its 32nd year, celebrates the genius of Tennessee Williams, who once called our city his "spiritual home," and the contemporary artists who are as honest and unflinching in their examination of the human condition as our patron playwright. Founded in 1986 by a group of cultural enthusiasts, the Festival has grown from a small gathering of 500 to a five-day literary and multi-cultural event, which sees 11,000+ seats filled each year. In late March, we toast Williams' birthday with theater, literary panels, food, and music events featuring luminaries and the brightest new talents in American arts. For more information, call 504.581.1144 or go to visit www.tennesseewilliams.net.
Follow us on Facebook: www.facebook.com/TWFestNOLA Twitter, www.twitter.com/TWFestNOLA and Instagram www.instagram.com/TWFestNOLA
The Festival is grateful to  its  Premier Media Sponsor, The New Orleans Advocate.
###
MEDIA CONTACT:
Marian Hawk 
press@tennesseewilliams.net 
706-840-0257