Mardi Gras has been celebrated in New Orleans since the explorer Iberville first set foot here on Mardi Gras Day 1699. In French colonial days, wealthy members of Creole society threw lavish Mardi Gras balls from Twelfth Night (Jan. 6) to Fat Tuesday Eve. In 1857, the first parade rolled through the city streets, courtesy of the Mistick Krewe of Comus. And in 1872, Rex, the king of Mardi Gras made his debut. Today, hundreds of Mardi Gras clubs (krewes) host grand balls and dozens of parade.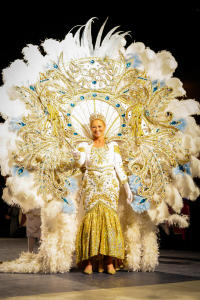 Balls and Parades
Mardi Gras balls are opulent affairs with kings, queens, royal courts, and an abundance of pomp and pageantry. And while most balls are invitation-only with elaborate invitations, everyone is welcome to attend the parades. The most family-friendly spots to watch the fun are along St. Charles Avenue with its breathtaking mansions and huge oak trees with limbs outstretched as if to catch beads. Canal Street and the rues of the French Quarter tend to be more crowded and a bit bawdier during Carnival time.
Throw Me Something, Mister!
Along the parade route, costumed riders on sparkling papier-maché floats toss "throws" to the greedy crowd who yells, "Throw me something, mister!" Along with beads, plastic cups and stuffed toys, parade-goers beg for prized throws like Rex doubloons, Zulu coconuts, Muses shoes, Nix purses and anything that lights up. Flambeaux carriers, snazzy marching groups, and clowns and characters of all kind sashay and strut down the street to marching bands who provide the perfect soundtrack to Carnival Season. And if you're really lucky, you might spy a Mardi Gras Indian out and about on Mardi Gras day. Their hand-sewn costumes take all year to make and are truly a sight to behold.