When it comes to dining in New Orleans, you can find absolutely amazing food at every end of the pricing spectrum. And when it comes to fine dining in New Orleans, we love any and all excuses to treat ourselves. There's no better time to try out a splurge-worthy restaurant than during Restaurant Week, when select restaurants will roll out the red carpet for exception pre-fixe menus featuring the best in seasonal produce and other locally sourced ingredients. We're drooling over all of the menus, but a few high-end picks really caught our eyes.
First off, there are the OG classics­–the grande dames of Creole and New Orleans cuisine. Commander's Palace is among the fanciest reservations in town, and their Restaurant Week menu gives by far the most choice to diners. They're not only offering brunch, lunch, AND dinner, but for each menu, you've got plenty of mix-and-match options–the brunch menu alone offers nine different appetizers, eight entrees, and six desserts. There's truly something for everyone.  
Seafood lovers will swoon over the offerings at GW Fins – an upscale restaurant known for having some of the freshest (and most sustainably caught) fish in New Orleans. Or if meat is more your style, check out the menus at Dickie Brennan's Steakhouse or Rib Room, where dishes like beef tartare with a crispy rice cake, fried capers, and a Cajun remoulade or an 8-oz New York steak with truffle potatoes and wild mushrooms make for a decadent evening.
A few other spots we've got our eyes on include August, with an $80 tasting menu featuring bluefin tuna crudo, roasted eggplant agnolini, Lomo Iberico Bellota, and jasmine rice pudding, as well as Domenica with their $53 three-course menu of heirloom tomato carpaccio, crawfish spaghetti, and a ricotta cheesecake.
See below for a few more of our picks for splurge-worthy restaurants participating in this year's Restaurant Week.

Splurge-Worthy Restaurant Week Picks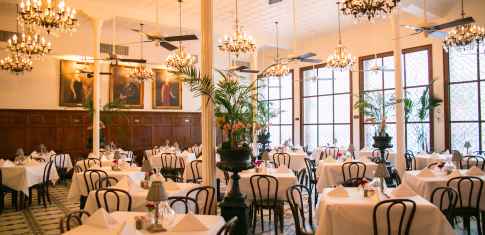 Splurge-Worthy Restaurant Week Picks