Delicious food is everywhere in New Orleans, but some of the tastiest bites can be found in the French Quarter. The best part is that many of these restaurants are neighbors and being in the Quarter means peak walkability. Beignets from Café du Monde, pralines from Loretta's, Bananas Foster from Brennan's…the list goes on and on. Check out our Self-Guided French Quarter food tour below for a delicious day (or days) of eating at your own pace.
Since 1862, Café du Monde has welcomed billions of travelers to their French Market coffee stand. Indulge in an order of classic beignets to kick off your French Quarter food tour.
Invented in New Orleans in 1906, the muffuletta is a Central Grocery specialty made with layers of cured meats and cheese, plus olive salad on Sicilian sesame bread. Though Central Grocery is currently closed and undergoing renovations, Sidney's Wine Cellar next door is selling the sandwiches to-go.
This quaint, low-key dim sum restaurant serves Chinese staples like egg rolls and fried rice. Opt for the xiao long bao (soup dumplings), one of their most popular menu items.
No one does pralines better than Loretta's. This chewy candy-cookie makes for the perfect take-home treat. Flavors vary from original praline to chocolate, rum, peanut butter, and coconut. You'll find this Loretta's location in the French Market.
Enjoy classic French-Creole cuisine at Café Sbisa. The turtle soup is one of the best in the city, enriched with lemon and sherry.
Enjoy wood-fired specialty pizzas at Louisiana Pizza Kitchen. The crab & shrimp pizza will leave you full, satisfied, and glad you tried seafood on a pizza.
In business since 1992, Bennachin brings a taste of Africa to the French Quarter with flavors from Gambia and Cameroon. Enjoy the restaurant's namesake dish, The Bennachin, with African jambalaya (jollof rice) and sauteed spinach.
One of the best burgers in New Orleans can be found at the edge of the French Quarter at Port of Call. All burgers are half pound ground fresh daily and come with a baked potato and butter. Order a cheeseburger for a little extra decadence.
Soufflé potatoes are a New Orleans specialty, originating at Antoine's when he established the restaurant in 1840. Fried into a puff and served with Béarnaise sauce, we can bet you've never had a potato quite like this.
Brennan's world-famous Bananas Foster is dessert and a show. Bananas, butter, brown sugar, cinnamon, and rum are flambéed tableside and served with New Orleans Ice Cream Co. vanilla bean ice cream.
You'll find Arnaud's classic Café Brûlot on the dessert menu. Coffee, lemon and orange rinds, cloves, cinnamon sticks, and Orange Curaçao are flamed with brandy and make for a great post-dinner sip.
A humble staple of Louisiana Cajun food, Patton's hot sausage patty makes for a great po-boy from Mahony's.
Deanie's roots go back to 1961 when the first seafood market opened in the little fishing village of Bucktown along Lake Pontchartrain. With three restaurants today, one being in the French Quarter, you can get yourself a fried or broiled shrimp dinner at one of the best seafood spots in town.
The Pompano Pontchartrain is a Broussard's classic, and while the ingredients change seasonally, the star of the dish stays the same. You might find your fish swimming in tomatoes and capers with jasmine rice one night, or topped with Gulf shrimp, sweet corn, and cayenne pepper cream another. All that means is you'll have to visit on a quarterly basis.
Mr. B's is a grand restaurant that everyone should experience at least once in their lifetime. The Gumbo YaYa is a hot cup of comfort with house-made andouille, chicken, and Louisiana popcorn rice.
Mr. Ed's Oyster Bar & Fish House specializes in oysters: grilled, fried, and raw. Get 'em on the half shell iced raw, charbroiled, Rockefeller-style, or in the form of "spicy oyster shooters."
For more on traditional New Orleans foods and famous dishes, see here.

Self-Guided French Quarter Food Tour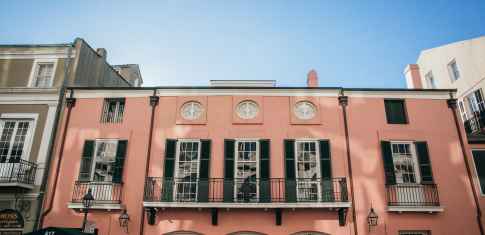 Self-Guided French Quarter Food Tour