There is no pastry more perfect than a donut. And while New Orleans' most famous donut may be the beignet, we put our signature twist on even the most traditional donuts. Pillowy-soft on the inside and crispy on the outside, these donuts come filled with jam, shaken in cinnamon sugar, spoon-dropped, and coated in icing. Treat yourself to a donut or two in New Orleans at the spots below. 
The beignet has nothing on the buttermilk drop–fighting words, we know. Owner and actor Dwight Henry opened the shop in the historic Tremé neighborhood in 2008, but the idea for Buttermilk Drop Bakery existed long before they opened their doors. Using a decadent batter scooped and dropped into hot oil, the crispy treat is then coated in a sweet glaze. The buttermilk drop should be a must on every donut connoisseur's list. 
Straight-forward donuts and unique flavors draw people to Blue Dot Donuts. Stop by for a candied maple bacon, chocolate cake, or original glazed.  
Few shops do it better than Daddy's Donuts located in Gentilly. Open daily starting at 6 a.m., scoop up the cheapest dozen in town that are sure to please a crowd. 
Open 24 hours a day, Southshore Donuts is the perfect place for a late-night snack—or early morning treat. While other donut shops are closed, this one has options at every hour. 
Uptown on South Claiborne Avenue, City Donuts is another 24-hour restaurant. Enjoy traditional donuts, apple fritters, bear claws, donut holes, and more. 
These melt-in-your mouth donuts are simple but sure to please. 
Primarily a cake shop, Heavenly Sweets also offers simple donuts. Stop by for jelly-filled, cream-filled, chocolate-coated with sprinkles, and more. 
Known as New Orleans' only jam shop, Jamboree jars small-batch, seasonal jams available for purchase, but they also make jam-filled donuts. Almost too pretty to eat, flavors change daily and range from London Fog Bavarian Cream to Lemon Bavarian Cream with Peach Jam and Blueberries.  
With several locations in New Orleans, District is the place to go for over-the-top dessert donuts. Flavors change daily, and they offer gluten-free options as well as decadent donuts. 
This neighborhood joint has served classic donuts for more than 50 years. Take a step back in time with their original glazed.  
A national chain with over 70 varieties of oversized specialty donuts, choose from flavors with titles like fruity pebbles, cotton candy, s'mores, and white & nerdy. 

Best Donuts in New Orleans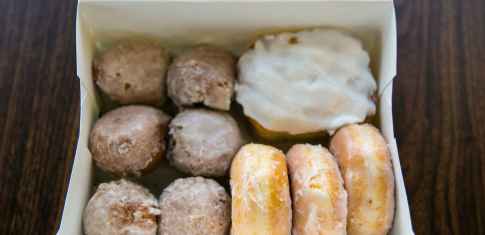 Best Donuts in New Orleans