The St. Charles Avenue streetcar line dates back to 1835 and today stretches from oak-lined South Carrollton Avenue onto the famed St. Charles Avenue and into downtown. Along the route, you'll find bars, restaurants, pubs, taverns and rooftops to stop at for a drink. Grab a $3 Jazzy Pass for one-day unlimited rides and wind your way through our streetcar cocktail crawl. Please remember to drink responsibly–we recommend splitting these cocktails between friends so that you can try more while keeping your composure.
Our first stop on the streetcar cocktail crawl takes us to Bourrée on South Carrollton Avenue, which specializes in wings and frozen daiquiris. You can take your drink outdoors to enjoy live music on select afternoons and evenings.
A sports bar right at the bend of South Carrollton and St. Charles avenues, Cooter Brown's is your spot along the crawl for a cold beer. There's a front bar list, a back bar list and 84 taps for you to choose from, plus an extensive bottle and can list.
Halfway down St. Charles Avenue is Superior Seafood. Known for its oysters and frozen cocktails, Superior makes for a tasty stop on the crawl. Stop by from 4-6:30 p.m. for their daily happy hour, which includes $4 house wine and draft beer and large frozen drinks for the price of a small.
The Delachaise is a quaint, narrow wine bar with French flair. Mussels and frites, lamb burgers and frog legs make for a tasty stop. Come for the wine, stay for the ambiance.
Located in The Pontchartrain Hotel, Hot Tin and Bayou Bar are hotspots for locals. Start your pit stop with a drink in the wood-lined Bayou Bar located on the first floor of the hotel. Then, take the elevator up to Hot Tin for sweeping views of downtown New Orleans, plus specialty cocktails and small bites.
Just down the street, enjoy a beer or two at The Avenue Pub. It is known for craft beer, specialty bourbons and a bottle list that may take a few minutes to thumb through. They also offer better-then-average pub food.
Take the line all the way into downtown, where the bars and restaurants are plentiful. Check out our French Quarter cocktail crawl here.

Streetcar Cocktail Crawl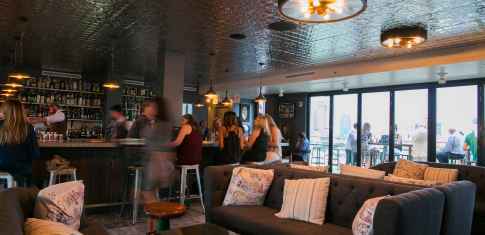 Streetcar Cocktail Crawl