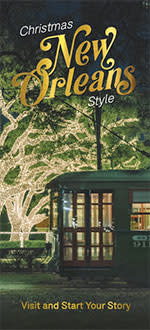 Download our Holiday Guidebook for an inside look on Christmastime in New Orleans. From Reveillon dinners to sparkling lights, New Orleans is the perfect destination for your holiday festivities. Visit and start your story!
The Guidebook Includes:
Holiday event details, such as caroling, bonfires, light displays and more;
Special "Papa Noel" deals and rates at participating hotels;
Reveillon menus at restaurants across the city
...and more!