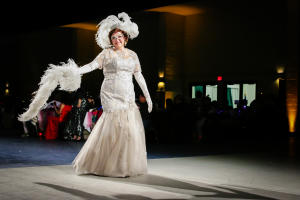 ​The Performing of the Tableaux
Tableaux are beautifully staged pageants that tell stories illustrating history and mythology. The final scene features a throne setting where the monarchs and the royal court are presented with a grand march. After the tableaux is dancing until the wee hours. Tableaux are still performed at more than 20 balls in the city today.
The End of an Era
For decades, one of the most popular ball venues in the city was the French Opera House on Bourbon and Toulouse streets. In 1920, when the building was lost in a fire, Lyle Saxon wrote in The Times-Picayune, "The opera house has gone in a blaze of horror and glory. There is a pall over the city; eyes are filled with tears and hearts are heavy. Old memories, tucked away in the dusty cobwebs of forgotten years, have come out like ghosts to dance in the last, ghastly Walpurgis ballet of flame . . . the heart of the old French Quarter has stopped beating." Now balls are held in various locations around the city, including hotels, the convention center and even the Caesars Superdome.