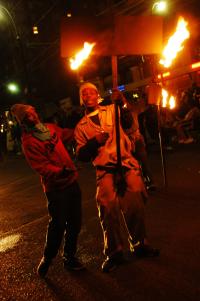 Ever since the very first Mardi Gras parade in 1857, flambeaux have been lighting up the Carnival sky.
Originally slaves and free men of color, flambeaux carriers at that first Comus parade twirled and danced with their flaming torches to the delight of the crowds who rewarded them with spare change.  
While flambeaux were needed to light up the parade route in the days before street lights, now they simply add to the spectacle. Torches carried in today's parade are lighter and safer, the tips have gone from pennies to dollars, and the entertaining exchange between the crowd and the flambeaux remains a rich Carnival tradition.