February in New Orleans is jam-packed with celebrations, and even if some of those can't go on as they would in other years, we're sticking to some of the same comforts and culinary traditions as we always do. So while we may be missing parade-side Popeye's with 1,000 of our closest friends, you can bet that our homes are still full of king cakes from local bakeries. You can find a list of some of our favorites here, but in the celebration of Black History Month, we recommend checking out a few outstanding Black-owned bakeries to get your fix. Grab a traditional with icing from Adrian's, or swing by Bywater Bakery for their cult-favorite Chantilly King Cake filled with mascarpone whipped cream and fresh berries.
If you're ready to move onto the main course, New Orleans is full of noteworthy Black-owned restaurants to choose from. Pull up a chair in a restaurant steeped in Civil Rights history at Dooky Chase's, or sample some of the best fried catfish of your life at Barrow's. Still holding true to some of your New Year's resolutions to stick to a plant-based diet? Sweet Soulfood's got your back with vegan updates to classic soul food faves. Or maybe you're looking for a romantic night out with your love for Valentine's? The courtyard at Vyoone's is swoon-worthy with the cuisine to match. 
Speaking of romantic restaurants, we've rounded a few of our favorites, but you truly can't go wrong with a plate of blue crab beignets under the incredibly flattering lighting of Petite Grocery's French-inspired dining room, or by sharing a dozen raw oysters and cocktails in the dreamy setting at Seaworthy. 
Finally, February would have also meant one of our favorite food fests, Tet Fest, which is held annually in celebration of the Vietnamese New Year. So take comfort in a huge bowl of pho from Lilly's or a heaping plate of bun from Magasin Kitchen while dreaming of next year's festivities. 

Where to Eat in February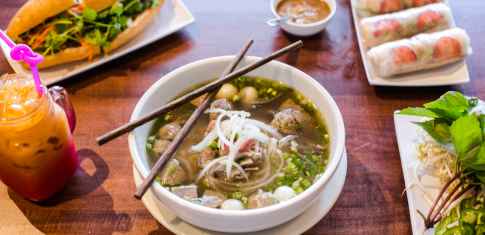 Where to Eat in February